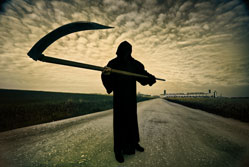 Three brief case studies. Three businesses that had to 'wake up and smell the coffee', or go bust! Knowing what to do is not the same as taking the necessary action.
To turn around their fortunes, three separate magazine publishers became obsessed with the triad of strategy, marketing and teams.
All the publishers had made their money from subscriptions and sales revenues. Both of these revenue streams fell by about 70% in 2009. The entire landscape of their very different markets and industries had changed.
The solution was to reinvent the businesses. One used its incredible database to run conferences; one contracted by 70% and only kept its premium high-value work while slashing costs; one reinvented itself by focusing on editorial and content relevant for a very specific age range.
All three businesses became more profitable than they were when they hit their respective brick walls.
The moral of the story: sometimes you have to reinvent yourself. There is no other choice. Death by a thousand cuts is not a pleasant way to die.
Copyright © 2014 Robert Craven, business coach and consultant, and author of Kick-Start Your Business and Grow Your Service Firm. Robert also runs The Directors' Centre, which helps businesses to grow. Watch a five-minute video of Robert live at PSA London.