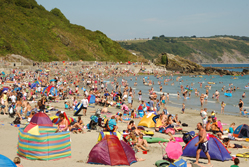 Many of us look forward to that longer break that bank holiday weekends bring, because it can provide the perfect opportunity to get together with family and friends, who we don't see as much as we'd like due to the demands of our busy daily lives. But do businesses look forward to bank holidays?
Each bank holiday is reported to cost the UK economy £2.3bn (according to the Centre for Economics and Business Research) and they can cause a headache for business owners, with some questioning the need for so many public holidays. But the UK has the lowest number of national public holidays of all major economies, with just eight public holidays compared to a G20 average of 12. The UK even has fewer public holidays than countries viewed as stereotypically industrious, including Japan (15) and China (11).
Do you need to let staff have time off for bank holidays?
According to Direct.gov.uk, bank or public holidays do not have to be given as paid leave, but an employer can choose to include bank holidays as part of a worker's statutory annual leave.
Most retailers are now open during bank holidays and expect their staff to work their normal or Sunday hours. However, most offices close, while choosing to include bank holidays within employees' holiday entitlement. Most office-based small businesses close, but some staff (and many business owners, of course) work from home.
Should this come out of holiday entitlement?
According to ACAS and Direct.gov.uk, this should come out of holiday entitlement, they also state that: "Employers can set the times when workers can take their leave - for example, a Christmas shut down."
Many seasonal businesses don't allow holiday to be taken during the summer months, but is this fair? For parents in the UK, taking holiday during term time to fit in with school holidays means higher costs for breaks away.
How can you keep your staff happy if your business operates on bank holidays?
If you are an office-based business you might want to allow employees to take it in turns to work bank holidays or allow some staff to work from home if possible.
Speak to your customers and find out if they are working before you shut down your business for the bank holiday weekend. If you will be sitting in a silent office with phones that are unlikely to ring, it might be just as well to close down.
Other businesses welcome bank holidays, of course, because they are able to cash in on extra money being spent by people who are happy because they are not at work.
Copyright © Chinny Ogbuagu 2014, regular writer for the Pitney Bowes blog.
Further reading