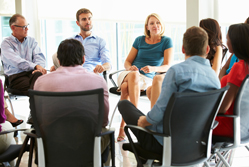 Although they can sound like a waste of time, effective team meetings are essential for all new (and existing) businesses if they are to reach their potential. They can help you leverage the collective intelligence in your business, as well as move the team forward cohesively.
Ideally you should have more team meetings, not fewer. This is because effective meetings lead to:
Broader buy-in and consensus.
Better understanding of complex problems and issues.
Better understanding of individual contributions.
Greater positive social obligation.
But what should you avoid if you want to ensure effective team meetings?
Lack of drama (conflict). Heated arguments and demonstrations of passion, as long as they remain constructive, can generate a deeper and broader understanding of the topic.
Lack of context. The type of meeting and the organisation of the meeting must be tailored to the issues being addressed.
There are four important elements that need to be implemented if you want an effective team meeting:
1 Define the purpose
Be really clear. Are you strategising or discussing operations? What do you want to get out of this meeting? Everything stems from the purpose.
2 Create an agenda
As the leader of the meeting, you should make your agenda sharp – and make sure you stick to it.
3 Set a time limit
Keep to the purpose and agenda. Otherwise you could spend half your day in team meetings without actually getting anything productive done.
4 Limit the number of attendees
If you want meetings that will move your business forward, the right people need to be present. This will come naturally if you move through the previous steps. Once you know the purpose and agenda for your meeting, it becomes clear who needs to be there – and who is only going to be wasting time if they attend.
Every meeting is different and will have unique requirements, so you need to be flexible with your structure. However, these elements are common to all effective and productive team meetings.
Above all, before every team meeting, ask yourself one simple question: "What do I want my team members to achieve after this meeting?" You will be amazed at the clarity that answering that one question will bring – and what a difference that will make to the meeting and its effectiveness.
Copyright © Shweta Jhajharia 2014. Shweta is a multi- award-winning business coach and founder of The London Coaching Group.