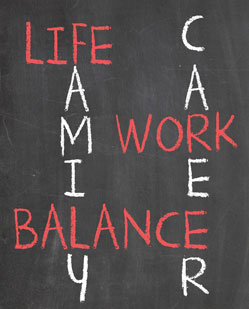 For many business owners, striking a happy work-life balance is like finding the pot of gold under the rainbow: it's something we all strive for but never quite achieve. For anyone who works with family members, it can often seem like nothing more than a fantasy.
According to the Institute for Family Business, family firms now account for two thirds of private sector enterprises in the UK and family-run businesses experience a range of unique challenges. Here are my five tips to help you and your family create a healthy work-life balance, as well as create a more productive workplace.
1 Honest communication
Always communicate openly, calmly and clearly between yourselves during work hours. Resolving those inevitable disputes and clearing the air before you leave work is fundamental to not bringing the stresses of the day back home with you.
2 Set boundaries and stick to them
You're family, but you're also at work, so maintaining your professionalism is not only essential to the atmosphere you create for your employees, but it also helps you separate the two areas of your lives.
3 Schedule work-free time
It's easy to fall into the habit of only seeing the people you work with at work. But when your colleagues double up as your family members, it's important to carry on doing what families do together – socialising and supporting each other.
4 Put on your own oxygen mask first
There's always a level of guilt that comes with leaving work before a colleague who's up against it (even more so when it's a family member). By all means offer support and stay late every so often, just as long as it's not a regular occurrence, or resentment could easily build. Better to review workloads at the next staff meeting and make sure tasks are divided equally.
5 Formalise systems
This is obvious - everything works better if it's organised. As a family, decide upon a way of filing or structuring systems – and all stick to it. Better you all find a new efficient system, than each battle on with some archaic process that creates more harm than good.
© Copyright 2014 Ben Copper. Ben is the founder of family-run business Nutshell Construction.
Further reading