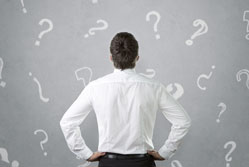 The excuses for not buying now are many: too small, too big, too soon, too fast, too slow, too expensive, too complicated. But sometimes hesitancy to buy is not about the seller and the seller's service, but the buyer's internal thought processes.
More specifically, I am curious about why people don't buy into a process that they know, in their heart of hearts, is one that they not only want, but also need for the development and growth of their business.
The need for what is called 'strategic planning' is recognised as being a cornerstone of developing, running and growing an organisation. There are plenty of trite quotes, such as, "failing to plan is planning to fail" and so on. However, at the core it is pretty much universally recognised that it is better to have a plan than no plan. And it is better to have considered the various options while being aware of the changing pressures in the business environment. I call it making your mistakes on paper.
Despite strategic business planning being almost like "motherhood and apple pie" (in other words, a good thing, something that is required), I'm still astounded at how so many people manage to delay or put off the process. This is madness, because a little bit of thinking and reflecting can help to direct and focus one's actions on what is important and understand one's priorities.
Copyright © Robert Craven 2014. Robert Craven is a keynote speaker and author of business bestseller Kick-Start Your Business.  His latest book is Grow Your Service Firm.
He also runs The Directors' Centre, helping growing businesses to grow.