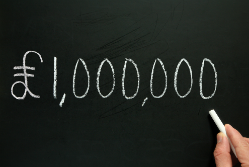 Would you like your business to reach £1m turnover? Most business owners would answer yes, but 96% of them will fail. Only 4% of businesses reach £1m turnover.
Why so few? Well, it has a lot to do with how you started the business and what pillars you have in place to allow you to reach that level.
Having worked with hundreds of businesses over the past few years, I have discovered that there are some striking differences between the 'micro' business owner and the owner of a £1m enterprise:
1 Qualification
Starting a business requires no formal education or qualification. The process of going online and registering a new company is easy.
This 'low bar' to start also means that most people assume that what they know is likely to be enough. They then spend the entire first year bravely finding their footing and 'learning to walk'.
The skills they develop at this early stage will influence their ability to break through the £1m mark later on.
2 The "complexity ceiling"
Most businesses hit a ceiling because the way they began means further improvement and growth is too complex for them to handle and pursue.
Effectively, the business becomes trapped in what is sometimes called the 'Hindu Rate of Growth' – an average growth rate of around 3% each year – just enough to keep pace with inflation.
To break through this ceiling, new systems need to be employed to allow for growth to happen, while at the same time managing the increasing complexity of the business. What allowed many entrepreneurs to run a successful small business simply cannot support larger, more complex teams and issues.
It is at times like this that it helps to have an outside party shine fresh light on your business processes.
3 The language of numbers
Every entrepreneur – ideally at the start-up stage – needs to become fluent in the language of business. This language is all about numbers; profit, sales, cashflow, receivables, assets, equity, ROI, average value sale, conversion rate – these are all numbers that the professional business person not just understands, but is also able to leverage for every business decision they make.
In marketing, sales, team management and leadership there are key metrics to measure, estimate and average to evaluate and justify decisions that will lead to sustainable growth.
If you want your business to break through the £1m threshold, review your techniques and decision-making processes now. Don't wait until you hit the ceiling and get stuck.
Copyright © 2014 Shweta Jhajharia. Shweta is principal coach and founder of The London Coaching Group, which you can follow on Twitter.