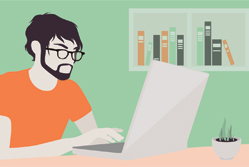 The world of work is changing. The Connected Age has enabled business to become more agile. Online work platforms provide access to professional talent quickly and affordably, meaning businesses can staff up when they need to, and quickly respond to changes in market demand.
So how can you, as a small business, tap into this talent pool and use online workplaces such as Upwork to grow your business? Here are a few tips to get you started…
1 Write a clear and detailed job post
Outline exactly what's expected and try to answer the freelance's questions up front. For example, if you'd like to have an article written, specify exactly what you're looking for and don't neglect details such as word count, purpose, subject and key themes.
Spell out the skills you're looking for. If you're seeking someone with a background in animation or Adobe Photoshop, make that clear. Include the timeframe and decide whether you'll be hiring on an hourly or fixed-price basis. Hourly projects are useful for ongoing work or if the scope of the project may change.
Outline a budget. Freelances are generally professionals who work online for a living. Set the price at a level that you believe is fair.
2 Evaluate proposals on their merits
It's important to consider all factors when evaluating proposals from freelances (not just the price).
First and foremost, you should avoid template submissions, and focus on those that are written specifically for your project. Look for professionalism and attention to detail, plus a logical structure and information flow in the proposal.
Some freelances will include samples of their previous work. Give the most weight to samples that are closely related to your task. Ultimately, it's wise to select freelances that are most excited by the opportunity, show that they are truly interested in the work, and can bring enthusiasm and quality to the finished product.
3 Shortlist top candidates
In addition to a freelance's proposal, you can delve deeper into their profile to get a better sense of how they will perform. Review their ratings, work history, accredited skills and examples of past work. Browse through written feedback from previous clients and see how the freelance responded to this feedback. This can be a good indicator of the freelance's level of professionalism.
Consider the freelance's expertise, but don't be afraid of new profiles. Although untested, these freelances may be more motivated to impress you in order to launch their freelancing career. Use multiple forms of communication to screen candidates and get a better sense of how they'll work. You can send emails or make video calls, but be sure to record all communication on the platform for safety and future reference.
4 Choose wisely and get started
If you're hiring for a long-term or recurring task, do a small test project to evaluate two or three freelances before making a selection. You'll get a good idea of each person's skills and work style to help you make a better decision.
If you need to provide sensitive information, ask freelances to sign a non-disclosure agreement before engaging in further discussions. This will help protect your intellectual property.
When you're ready to select a freelance and finalise negotiations, confirm the price and the job terms before awarding the job. If the scope of the project or milestones change, you can always update a project's terms with agreement from the freelance.
5 Get your work done efficiently
Communication is key when managing online projects, and you should constantly ask questions and track progress to ensure outcomes and deadlines are met. Use the tools available to view work in progress, and set clear timelines for receipt of deliverables.
For hourly jobs, be sure to review timesheets on a regular basis so that there are no surprises. For fixed-price jobs, specify the milestones and key dates you expect work items to be delivered. This gives you multiple opportunities to view, approve and pay for work along the way. Request weekly reports on tasks performed, hours worked, files completed and plans for the upcoming week. Ensure all files are uploaded and all communication is tracked.
6 Finalise your project
By using online talent you only pay when services are delivered. As the freelance completes phases of your project, evaluate their work. Is it what you expected? Be straightforward with your freelance about their performance, their professionalism and their overall contribution to your business. Feedback enables freelances to grow their careers and businesses to thrive.
When you've finished the project and paid your freelance, take a moment to rate their performance. Be honest and professional. You can provide feedback both one to one and for the broader community to see. Your opinion matters, because it is the most significant way clients differentiate between freelances. Once you get started, you'll find that hiring talent online is a safe, fast and effective way to get things done.
Copyright © 2014 Hayley Conick. Hayley Conick is country manager of Elance - oDesk in the UK & Ireland. Grow your business. Get $50 towards paying your first online freelance here.