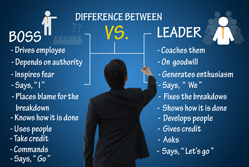 When we started out four years ago, leading a team wasn't a consideration. We were a small family unit and did everything ourselves. We dreamt big but back then we couldn't have known how things would evolve.
As our company grew, it became apparent that we had to employ staff. This was uncharted territory; now we had to become managers and leaders if we wanted to grow. Our skills had been more than adequate up to this point but we now needed an upgrade. I suspect many small firms find themselves in the same situation, when it's crucial to embrace the next step – it's make or break.
If you're happy to stay small and have no real interest in growing – that's fine. But if you want to get to the next level you must learn how to delegate and manage people. We decided it would be a good idea to hire a business coach. There's no shame in admitting you don't know it all and we felt some guidance would surely benefit our business. Here are some points worth considering:
Even if you're not a born leader, it's something you can improve with effort and education. When it comes to motivating and managing people, there are many approaches, but none of us wanted to be dictatorial or autocratic.
If you've ever been employed you will have had a lesson in management, whether you realised it or not. What was your manager like? Did they get the best out of you? Did you feel valued? Were you listened to? Many people leave their boss and not their job. Sometimes a harsh experience can teach you how it shouldn't be done.
If you respect your boss and you love your job you're more likely to stick around and add value to the business. Working for someone whose attitude is "my way, or the highway" is very frustrating, counterproductive and bad for morale. Do you really need to improve your leadership skills? If you care about keeping your staff happy, you should care.
A member of your team is an asset – so treat them like one. Listening and communication is key. Most people don't listen intending to understand; they listen to reply. Let your employee speak without interruption and carefully consider what they've said.
Set realistic goals and help your employees succeed in achieving them. Delegate and empower your people to make decisions, let them know they are trusted to do so.
Management is a skill and can be improved and polished like any other. Strive to learn from your mistakes and aim to improve. Just like anyone, you're fallible. So rather than try to deny your errors, turn them into valuable lessons.
Praise is very important – but not praise for praise's sake – it must be earned. If you shower someone with praise at every turn they could become complacent and start to think that their performance will be 'good enough'. You must keep your employees on their toes and let them know if they've fallen short of agreed goals.
Knowing something to be true is one thing; putting it into practice is another. So, constantly review your own performance and strive to improve. A happy, fulfilled employee is good for business and what's good for business is ultimately what will make you succeed.
Copyright © 2014 Sam Frith. Sam Frith is the creative director of Ski Boutique, an "international agency offering luxurious and bespoke holidays in Europe's most breathtaking alpine destinations".