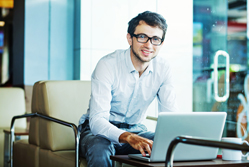 At the Labour Party Conference in September, panellists from the world of business and politics told the audience at the Student Entrepreneurs Question Time (SEQT) event that technological advances meant today's entrepreneurs have more available opportunity than ever. However, to succeed they must be prepared to fail, remain ambitious without spending beyond their means and seek expert advice when faced with more complicated challenges.
The event was hosted by the National Association of College & University Entrepreneurs (NACUE) and Santander, to enable would-be entrepreneurs to discuss key issues and challenges. Similar events were later scheduled for the Conservative Party Conference in Birmingham and the Liberal Democrat Party Conference in Glasgow.
According to research by Santander, some 80,000 UK university students combine studying with running their own business ("earning while learning"), with a quarter of these hoping to generate a wage for themselves from their business after graduating.
More practical support
Students at SEQT appealed for increased practical support from the government and their universities, for example, through mentoring schemes. Other suggestions included making vacant office buildings available to university start-ups and for extra-curricular entrepreneurial activity to be assessed as part of degree courses.
Johnny Luk, NACUE chief executive said: "More students are setting up businesses and choosing to be self-employed than ever before. They're engaging in activities beyond the classroom, such as entrepreneurial societies, and developing their soft skills, which is not always reflected in an exam grade. Students often find it difficult to engage with politicians. We work to advocate for these students, the dreamers, the strivers and the innovators, opening up more meaningful engagement channels between young people and politicians."
NACUE directly supports more than 200 entrepreneurial societies at universities and colleges throughout the UK, while organising national events for students, educators and professionals, and seeking to influence government policy.
Student Entrepreneur of the Year
Many fantastic businesses continue to be born and supported on campuses throughout the UK. Post-graduate student Katerina Kimmorley, co-founder of Pollinate Energy, is the reigning London School of Economics Student Entrepreneur of the Year. Her fledgling social business provides solar lighting and other sustainable, affordable products to people living in urban slums in India, where more than 300m people live without access to energy.
Selected from a pool of 2,000 students and alumni, Pollinate Energy was commended for its impressive growth during its first 18 months. According to LSE: "A strong commitment to sustainability and inspiring entrepreneurial potential in others was also noted: local people are employed as 'Pollinators' to run their own mini enterprise and sell various products in their own communities."
Katerina said: "LSE has supported Pollinate Energy from when it was just an idea to today when we are providing solar lights to people in more than 500 urban slums. It's empowering to have the support of LSE. This year we'll be replicating our model in a second Indian city to show it can be done in the 53 other cities in India that have more than one million inhabitants. Winning this award is a wonderful demonstration of LSE's commitment to the practical application of research at the nexus of two of the world's greatest challenges – poverty and climate change."