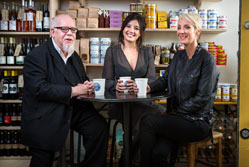 According to American Express: "Godfather of Pop Art, Sir Peter Blake, one of Britain's best-recognised supermodels, Daisy Lowe, and BAFTA-winning filmmaker Heidi Greensmith have come together to encourage the public to shop small on Small Business Saturday, 6 December 2014."
Small Business Saturday is a campaign that encourages people to shop in local, small, independent businesses across the UK. American Express supports the initiative, together with small business organisations, trade bodies, local authorities and others.
American Express founded Small Business Saturday in the USA in 2010 and it arrived in the UK in December last year. The financial services heavyweight has commissioned the trio to "use their talents to shine the spotlight on the nation's small businesses".
Nation of shopkeepers
Sir Peter Blake, world-famous pop artist who is responsible for the iconic Beatles LP cover for Sgt Pepper's Lonely Hearts Club Band, is "creating a bespoke piece of celebratory art featuring small businesses from across the UK". He says: "Small shops and the Great British shopkeeper have been at the forefront of British culture for hundreds of years.
"The notion of a 'Nation of Shopkeepers' is embedded in our folklore and the wonderful variety of today's independent shops, as well as the character that small businesses bring to a local area, make them an ideal subject matter for modern pop art. Having worked at a local butcher at the age of 13, I have also experienced the dedication and hard work that goes into running a small shop. It is for all these reasons that I am thrilled to be lending my support to a campaign that champions small businesses."
Daisy Lowe "will lend her support at an independent shop on Small Business Saturday", while Heidi Greensmith "has turned her camera onto three independent shops to give small businesses a share of the limelight in the lead up to the Christmas shopping rush".
Passion and commitment
Her excellent film, Saturday, can be seen on YouTube. It "captures the passion and commitment of the business owners", including 36-year-old Cardiff fishmonger, Nick Bryant, as he gets up early and prepares for the rigours of his day. Olivia Brewer and Nik Blake, owners of Bath clothes shop FOUND, then feature, "as they give their customers the personal stylist treatment". Finally, we find out more about Babette Kulik, 47-year-old owner of London bookshop The Society Club. "She sources first-edition books and holds unique literary events for her eclectic mix of customers".
"Small businesses are an essential part of the local community, not only providing a personally selected offering for their customers, but also as a place where local people can simply meet up, catch up and feel looked after," comments Greensmith. "I set out to capture and celebrate the unique role small businesses play in our lives and hope the film inspires the public to shop small on Small Business Saturday."
According to American Express research carried out after last year's campaign, "43% of shoppers on the day chose specifically to shop at local independently owned businesses because of Small Business Saturday". They each spent an average of £33, generating £468m for small businesses throughout the UK. More of the same this year? That'll do nicely…
Blog written by Start Up Donut editor and freelance SME content writer Mark Williams.