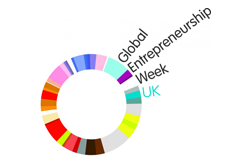 According to its organisers: "Global Entrepreneurship Week is the world's largest campaign to promote entrepreneurship. Each year, it plays a critical role in encouraging the next generation of entrepreneurs to consider starting their own business."
This year, Global Entrepreneurship Week runs from 17-23 of November and it will seek to inspire "people everywhere through local, national and global activities designed to help them explore their potential as self-starters and innovators. These activities, from large-scale competitions and events to intimate networking gatherings, connect participants to potential collaborators, mentors and even investors – introducing them to new possibilities and exciting opportunities."
In the UK, GEW is hosted by Youth Business International (a "global network dedicated to helping young entrepreneurs get started in business") in partnership with Barclays.
Last year in the UK, more than 6,000 GEW events took place, reaching "more than 300,000 entrepreneurial people across the country". Global Entrepreneurship Week started in the UK as Enterprise Week in 2008, but it has since grown into a global campaign that takes place simultaneously in more than 140 countries, involving more than 33,000 activities worldwide.
Get Connected!
This year, the organisers are inviting participants to "Get Connected!" by "turning your ideas into something amazing". They add: "For many people, the thought of starting up their own business is overwhelming, and many entrepreneurs don't make it to the next stage because they don't make the right connections. Our research shows that aspiring entrepreneurs and start-ups are eager to access practical support and networks through Global Entrepreneurship Week.
"But Global Entrepreneurship Week is more than just an awareness campaign supported by world leaders and celebrity entrepreneurs. It is about unleashing ideas and doing what it takes to bring them to life – spotting opportunities, taking risks, solving problems, being creative, building connections and learning from both failure and success. It is about thinking big and making your mark on the world – doing good while doing well at the same time."
The GEW website lists the wide range of activities that are taking place. You can also find out about key developments on Twitter and Facebook.