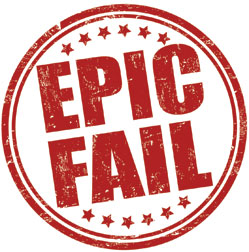 When was the last time you were up at 3am? Big birthday bash? New baby? Box set? There are many life-affirming reasons to have your eyeballs open at silly o'clock. But slaving over your accounts or squinting at your Google Analytics dashboard aren't among them. There are four classic mistakes that start-ups and small businesses often make. Here's how you can avoid them:
1 Being a jack of all trades
There's an unavoidable period where start-up owners have to wear all the hats: sales, marketing, finance, IT, operations. While it is possible to find joy in all these tasks (the thrill of a sell, the hum of a server, the glint of a spreadsheet anyone?) there are some you will always despise. But if you're not careful you'll end up doing everything forever. So cherry-pick the bits that give you a buzz and for everything else, use freelancers to get it off your desk and get it done. If you can't face your accounts, your blog or your SEO, ship them off to someone who can. You get some sleep – or finish that box set.
2 Not doing what you are best at
If you're trudging through your tax return or fiddling for hours with Photoshop, you're definitely not making best use of your time and you're probably not making a great job of it either. Don't run your business doing lots of stuff averagely; do less stuff, but outstandingly. Build a network of fellow specialists and you've created a multi-skilled team without employing a single person. Find freelancers with the right skill set and experience, check out examples of their work and read independent reviews from other business owners. When you hire, set a fixed rate, for an agreed period, with clear deliverables.
3 Not staying flexible
Unless you live in a cave, you'll know the two Truths of Domestic Existence: 1) you will one day, possibly quite soon, have need of a good plumber and 2) there is nothing harder to find than a good plumber. However – and here's the point – you still wouldn't hire a permanent one would you? Similarly in your business, you might have a recurring but unpredictable need for say, a proofreader, a salesperson or a website designer. Using online hiring platforms such as Elance or ODesk to hire an expert resource on a project-by-project basis – exactly when you need it – keeps your options open and your cash available. Even if business is flying at the moment, future demand is hard to foresee. Focus on what you need now and stay flexible for as long as you can.
4 Working in it, not on it
What happens when you go on holiday or get ill? Do all gears grind to a halt? If so, you're not running a business, you are a business. Diverting streams of repeat activity such as admin support or website maintenance through reliable freelance channels makes your business less vulnerable to disease, pestilence and man-flu. It also gives you a greater sense of progress: in addition to the furrow you're ploughing, you have another production line. Most importantly however, placing tasks with others automatically promotes you to an executive position. That means you are reviewing, checking, approving and deciding everything, which is a lot less time-consuming and more important for your business than doing absolutely everything.
Copyright © 2014 Hayley Conick, Country Manager for Elance-ODesk in the UK & Ireland.
Get $50 towards paying your first oDesk freelancer >>