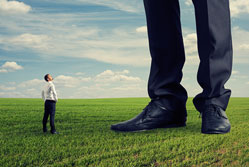 A new report commissioned by the Information Economy Council (a joint initiative between the Government and the private sector) argues that resources should be focused on helping "scale-ups", because this could "contribute a million new jobs and an additional £1 trillion to UK economic growth by 2034". The report defines scale-ups are enterprises [with 10 or more employees] that have "average annualised growth in employees or turnover greater than 20 per cent a year over a three-year period".
Significant growth
The scale-up report on UK economic growth was written by Canadian-born but UK-based serial entrepreneur and investor Sherry Coutu, who sits on the boards of the London Stock Exchange, Zoopla, LinkedIn and others. In the foreword she says: "If we take action now to focus on 'scale-ups', we will secure significant growth in jobs, taxes and wealth, and the competitive advantage of Britain for generations to come.
"This report explains how a boost of just one per cent to our scale-up population should drive an additional 238,000 jobs and £38bn to GVA [ie gross value added – a measure of economic output] within three years. In the medium-term, assuming we address the skills gap, we stand to benefit by £96bn per annum and in the long-run, we stand to gain 150,000 net jobs and £225bn additional GVA by 2034."
She adds: "With the supportive government policies, industry structure, geographic placement and talent supply we enjoy in the UK, we [can] create unrivalled national competitive advantage by increasing the proportion of companies that scale-up."
Big disappointment
As Coutu explains, although more new businesses per capita are started in the UK than even in the USA, few scale-up into large companies, with Britain (0.5%) having a lower proportion of larger businesses (ie 250-plus employees) than the USA (0.7%) and many other nations.
In 2013 in the UK, according to Government-endorsed entrepreneurial campaign group Start Up Britain: "526,446 businesses were registered with Companies House, beating the 484,224 businesses recorded in 2012 and 440,600 in 2011." But, about half of all new businesses fail within three years and most (90%) are gone within 10 years; only 4% of start-ups achieve a million-pound turnover after three years.
According to Coutu, high-growth, scale-up companies "contribute a disproportionate amount of jobs and growth to the economy, so closing this 'scale-up gap' is the most effective thing government, business and academia can do to drive economic growth."
Analysis by RBS has found that closing the 'scale-up gap' could create 238,000 more jobs and £38bn in additional annual turnover in the UK within three years, while (innovation charity) Nesta estimates it could "be worth up to £96bn per annum to UK economic output". Professional services heavyweight Deloitte says implementing the report's recommendations could deliver a potential £225bn in additional GVA and 150,000 net new jobs over the next 20 years.
More ambitious challenge
"Britain's start-up community is flying," Coutu comments. "The next stage of creating wealth, prosperity and jobs will come from focusing on scale-ups. We have the chance to identify and support the companies that are already creating new jobs and help them further drive the UK economy. People often ask if the UK could be home to the next global success story, like a Google or Facebook. The answer is yes, but we need to be more effective at identifying the companies that have the greatest potential, and making sure they can find the most talented people and serve more customers, in more countries, more easily."
She adds: "Getting our ecosystem to produce a greater number of scale-ups is more ambitious and challenging than producing a greater number of start-ups or celebrating entrepreneurs."
Blog written by Start Up Donut editor and freelance SME content writer Mark Williams.