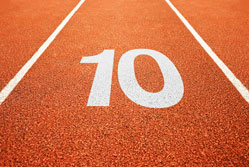 1 "It's natural to see your competitors as the enemy. In reality, they're not  (ignorance and blindness-to-change are what you should really be watching out for). We've found that building relationships with our competitors has been invaluable in terms of support and knowledge sharing, while being fun, too."
From The benefits of making friends with your competitors by Cartridgesave.co.uk
2 "If you believe that your target market is struggling and has no money to spend, you'll easily be able to prove that to be correct. If you were to say to yourself that your target market is making more focused buying decisions, you'll take a different approach to your next sales conversation. Whatever is true doesn't matter. It's the attitude and energy you take to it that will make the difference."
From Are your beliefs holding your business back? by Sarah Lane.
3 "Look at companies such as Comet, Blockbusters and Jessops. I'm sure their business plans didn't include going into administration! Had they had a Success Plan, perhaps their futures may have been different."
From Are start-up business plans a total waste of time? by Mark Williams.
4 "To run a successful team, a leader needs to be creative, logical, passionate and able to be compelling and articulate. However, you also need to recognise that you can't do everything on your own, so you must get the right people around you."
From Four common characteristics successful businesses share
5 "I like to think that I am an ethical consumer. I shop locally (on foot or by public transport), I purchase Fairtrade goods and my mortgage and savings are with an ethical bank. I am not alone. Research has shown that demand for ethical goods and services grew 12% during the recent economic crisis, against mainstream growth of just 0.2%."
From New research on SME and microbusiness ethical behaviour by Fiona Prior
6 "Remember: the 'bitterness of low quality lasts longer than the sweetness of low price'. If you put up your prices, you will always lose some customers, but only those who have bought solely on price."
From Should your business increase its prices? by Robert Moore.
7 "Entrepreneurs see things differently. They're happy to stick to their guns when everyone else tells them they're wrong. They're prepared to go it alone. Often they can spot a gap in the market that others don't see. They're also prepared to put in a lot of extremely hard work and cope with failure, however hard that might be."
From Are entrepreneurs born or made? by Marc Duke.
8 "Most businesses hit a ceiling because the way they began means further improvement and growth is too complex for them to handle and pursue. The business becomes trapped in the 'Hindu Rate of Growth' – around 3% each year – just enough to keep pace with inflation. To break through this ceiling, new systems need to be employed. What allowed many entrepreneurs to run a successful small business simply cannot support larger, more complex teams and issues."
From Three reasons why you don't have a million pound business by Shweta Jhajharia.
9 "With just a £20,000 loan to start his first business, Sir Philip Green went on to take over the Arcadia Group and is now worth a staggering £3.88bn. Similarly, Mike Ashley used a £10,000 loan to start Sports Direct and is now worth £3.75bn, while Sir Richard Branson's startup capital was a mere £300, which he used to start building an empire now worth £3.6bn."
From 10 top UK entrepreneurs who started with less than £25k
10 "A new report commissioned by the Information Economy Council argues that resources should be focused on helping 'scale-ups', because this could 'contribute a million new jobs and an additional £1 trillion to UK economic growth by 2034.'"
From Should the focus be on 'scale-ups' rather than start-ups? by Mark Williams.
Thank you to our site sponsors for their support in 2014. Many thanks also to the experts who shared their knowledge to ensure this blog remains a popular source of information, advice and inspiration. A massive 'Thank You' to all our readers, of course. Whether you were thinking of starting up and wanted inspiration or started your own business in 2014 and needed advice, we hope you found what you were looking for. Happy Christmas – here's to a fantastic 2015…
Further reading
Ten things you could have learned from our blog in 2014
Ten things we learned from the Marketing Donut in 2014
Ten things you could have learned from the Tax Donut in 2014
Ten things you could have learned from the Law Donut blog in 2014