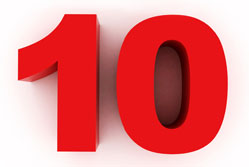 1. "Devise a simple 'unexpected circumstances' plan. Detail who does what, when and where, should things go awry. Prepare a temporary office in advance if there's a risk you can't get to your usual one. Make sure employees can work from home if necessary. Send your people home early if conditions worsen and be flexible if travelling is dangerous."
From What to do if your business is affected by bad weather by Hannah Tonge.
2. "Sell something people want; make sure the difference between what you buy it for and what you sell it for is big enough; find a way to get people to buy from you. And, of course, make sure you collect all the money you are owed."
From How to keep your business's head above water by Robert Craven.
3. "A well-engaged workforce will deliver increased productivity and performance. Remember that even the smallest gesture can make a big impact, such as enabling staff to leave early once targets have been met or even treating them to lunch. It's up to you to motivate your workforce and prevent a dip in staff morale."
From Top tips for boosting staff morale this winter by Helen Pedder.
4. "The right time for growth is when your business is in the middle of a successful period, with a few strong months just gone and a couple more forecast to follow. Be aware that expansion will eventually require additional resources, including labour, equipment, finances and more micro-management."
From Why it pays to fund your own new business by John Bee.
5. "Don't be afraid of mistakes. They're a fact of life and with a bit of thought they can be easily managed. Accept that making mistakes need not be a bad thing. After all, in the words of legendary US basketball player and coach John Wooden: 'If you're not making mistakes, you're not doing anything.'"
From What's the best way to handle your employees' mistakes? by Heather Foley.
6. "New businesses are a prime target for predatory salespeople. If you're in the online space you can expect companies that host business directories, sell email data, run pay-per-click ad campaigns, etc, to contact you. Most of them will press really hard and rattle off impressive-sounding numbers, but these direct sales services rarely convert to sales."
From Five key insights gained by a six-month-old online start-up by Pete McAllister.
7. "Over-thinking something often means that the ideas you come up with are forced and unrealistic. Watching an unchallenging film or TV show can allow your mind to switch down a gear and come up with something much less forced."
From How to reach your 'light-bulb' moment by Paul Lees.
8. "Effective marketing is about taking someone on a journey from hearing about you to buying from you, and from there, to buying more and telling the world about you. Taking the time to understand how your buyers do this will always be a good investment."
From The fundamentals of marketing explained for start-ups by Bryony Thomas.
9. "One in eight UK employees works more than 48 hours per week, while 54% of Britain's workforce regularly works through their lunch break. People who work long and unsociable hours could be doing themselves serious harm. Studies have shown that working 11 hours a day compared to eight increases your chances of developing heart disease by 67%."
From Has Britain become a nation of workaholics? by Helen Pedder.
10. "Factually, right now, about 60% of the people in your sector are only doing OK and 20% are struggling. This means that by stepping up and standing out, you could be in the 15% that are doing very well and if you really excel – you could be in the 5% that are exceptionally successful."
From How to be an exceptionally successful business by Anne Mulliner.
Thank you to our site sponsors for their support in 2014. Many thanks also to the experts who shared their knowledge to ensure this blog remains a popular source of information, advice and inspiration. A massive 'Thank You' to all our readers, of course. Whether you were thinking of starting up and wanted inspiration or started your own business in 2014 and needed advice, we hope you found what you were looking for. Happy Christmas – here's to a fantastic 2015…