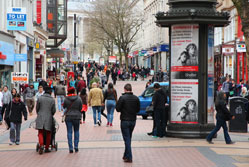 Lord Sugar, Richard Branson and Bill Gates – three of the top responses we received when we asked further education students to visualise enterprise. In fact, 59% of respondents associated enterprise with how entrepreneurs are defined in the media – high-profile, innovative individuals of extreme wealth – and just 5% identified local and regional businesses, small shops and near-by start-ups as enterprising.
It's true that the butcher, the baker and the candlestick maker no longer define our high streets, and a return to the town centre of the past looks increasingly unlikely. With a net total of 987 shops disappearing from the high street in 2014, almost three times the total 2013 figure, our town centres have changed beyond recognition. But with challenge comes opportunity.
And it is an opportunity for young start-ups. Town centre managers and current business owners on the high street need young people to be engaged in the future of our town centres, and support them more than ever. Only they truly understand the products and facilities a town centre can offer which will appeal to the next generation of consumers, and secure their purchasing power.
For this reason, placing young people at the heart of town centre turnaround is a key part of our new Carnegie Position on Enterprise. We believe that local authorities, educators, entrepreneurs and policymakers should come together to help young people interested in entrepreneurship to see towns as innovative hubs and hosts of their future start-ups. And that their enterprising spirit should be at the centre of plans for town centre regeneration.
Because when young people are given this opportunity, the results speak for themselves. In 2013, TestTown, our town centre retail competition for young entrepreneurs, doubled the footfall on the traders' streets and the teams took £10,000 in 20 hours of trading.
So as the UK Government asks us to celebrate the Great British High Street, we would add that we should celebrate the UK and Ireland's young entrepreneurs, and that policymakers and existing start-ups alike should welcome them to our town centres.
Copyright © 2015 Lauren Pennycook, policy officer at the Carnegie UK Trust. The Trust's new position on enterprise is available here.