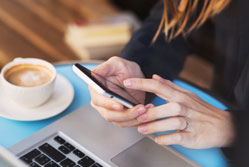 Running a small business with cloud services and a smartphone is easier than ever, and many services have truly stepped up in ambition and quality. With these five popular apps, you'll have some of the tools you need to succeed in a cost-efficient and lean manner.
For internal communication
Evernote – collect, connect, share and present
With Evernote, you can sync all your notes, keep track of your ideas and collaborate with your colleagues on many different projects. The premium version allows you to turn notes into presentations with just one click, as well as scan and digitize all the business cards that are lying around your office. 
To manage your business
Xero – do the books on the go
With Xero, you can do bookkeeping, accounting, send out invoices, manage payroll and produce inventory reports. And you don't have to be stuck with Excel or ugly interface ERP systems or accounting software. With Xero's simple and clever design features you can save a lot of precious time.
iZettle − a complete point of sale in your pocket
Originally an easy way to accept credit cards on a street market or vintage sale, iZettle has become a real one-stop-shop for small businesses when it comes to payment solutions. The real beauty of iZettle lies in the point-of-sale system, which allows you to digitize receipts, collect valuable customer information and gather sales data into helpful reports.
For external communication
Hootsuite − all your social media channels in one place
If you manage more than one social media account, you know it can be a hassle. With Hootsuite you can add three accounts, and if you upgrade to premium, you get a hundred. You can schedule your posts to optimize the impact. Now you can even include Instagram in your Hootsuite streams, to monitor and comment from multiple accounts.
Yelp − put your business on the map
Encouraging digital reviews of your business and engaging with your customers may be the single most cost-efficient way of strengthening your market presence. Just make sure you put some effort into updating your Yelp profile with all the possible information and contact details. Engage with customers – especially the disatisfied.
Now you have light versions of the many different systems that large organizations pay millions for − systems that often are old, messy and difficult to use. Use the small start-up size to your advantage and keep your business truly scalable. And remember: all these apps are developed for multiple platforms, so you can use iPads and laptops as well. You have to put your phone down once in a while.
Copyright © 2015 Erwan Derlyn of iZettle (@iZettleUK)