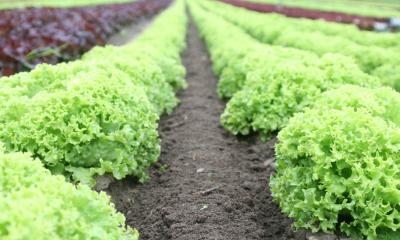 Commercial urban farm Growing Underground operates 100ft under the streets of Clapham in London. In such a unique environment, the team need to stay connected and share information quickly and easily no matter where they are
'Growing Underground' is a commercial urban farm unlike any other - growing sustainable micro greens and salad leaves 33 metres under the busy streets of Clapham in an environment which is water efficient, energy efficient and pesticide free.
Unlike traditional farm owners, entrepreneur Richard Ballard can maintain complete control over his environment, so every leaf tastes equally good and his fresh products can be delivered to markets, restaurants and food retailers around London within four hours of being picked and packed.
Control and communication are vital for success, and as the business looks to expand further into the tunnels increasing product range and output, Microsoft technology has helped them to keep close contact, stay agile and be ready for anything.
Staying connected
When the business started, there was a wide variety of PCs, laptops and devices in use so sharing information was not always straight-forward. Richard wanted to make the day-to-day running of the business as efficient as possible.
Richard says: "It's important that we can get information about the farm to everyone wherever they are and freely share documents. As a small business, having servers onsite wasn't realistic from a space or cost perspective, but we needed a system that everyone could log onto and use no matter what type of device they had.
"Microsoft 365 seemed like a very attractive option for us, with a mix of Windows and Apple users." he adds. Microsoft cloud services and devices help them to communicate freely, as well as create and share real time data at any time through any device.
Real-time information sharing
With documents stored securely in the cloud in SharePoint and OneDrive for Business, everyone on the farm accesses one common set of documents from which they can make updates quickly without risk of duplication. With data readily available at all times, Growing Underground are also empowered to react fast when required and make quick qualified decisions to make the most of every new opportunity.
Previous communications challenges have also disappeared thanks to Skype for Business. Instant messaging helps the farm and the office to share quick updates about the environment, while remote and mobile users can talk to one another and customers using audio and video calling.
As the business grows, Growing Underground will be able to add users easily and take advantage of additional communication and collaboration features on offer within their subscription.
"As a small business, we just can't operate with everyone in the same physical location, but with Microsoft technology we can be synchronized wherever we are," says Richard. "We can work together on the same documents from different places and we're always connected and up-to-date with what's happening on the farm. Without that immediacy we couldn't have taken the business so far, so fast."