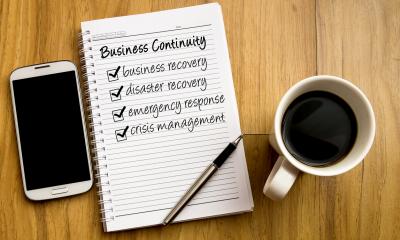 Business continuity experts Richard Harrison and Ken Katz of business insurer Travelers explain why you need a disaster recovery plan
Why don't more small businesses have a disaster recovery plan?
Ken Katz (KK): "In many cases, it's failure to appreciate the likely consequences should a disaster happen and you don't have a recovery plan. If something goes wrong, you're small, so you have less money and fewer people to help. Your fixed costs will continue, of course. Bad things do happen, believing they'll never happen to you is a mistake."
What percentage of businesses fail to recover?
KK: "Statistics in the US range from 25% to 40%, it depends on the type of disaster and business, but it's a substantial number. And 'recovery' - does it mean back trading again, or being as profitable as you were? They're two different things; achieving the latter can take much longer."
Richard Harrison (RH): "According to the Association of British Insurers, research suggests that 80% of businesses that suffer a major incident collapse within 18 months. Micro firms are typically started by one person who grows the business and takes on up to 10 staff. The idea that all critical information is in the owner's head can be exposed as false when a business needs to recover following a disaster. Having a plan is essential."
What types of disasters can happen?
RH: "Serious fires, flooding, a building collapsing, burglary, vandalism, arson, data loss or IT security breach - significant events that stop you trading. And don't forget that your premises could burn down as a consequence of a fire that started in premises near yours."
What's the difference between a disaster recovery plan and a business continuity plan?
RH: "Basically, disaster recovery planning focuses on the immediate aftermath. So, what action do you take to be able to make sales again? Business continuity planning refers to the longer process of repairing your revenues."
Do businesses recover quicker if they have a plan?
KK: "Absolutely. And it can be less costly if you know exactly what you need to do, when and how. Better outcomes are more likely if you have a plan. That way, you don't have to make critical decisions under crisis, stress or distress. You must focus on critical issues first and execute a series of well-considered actions. Planning enables that."
RH: "And effective planning can enable you to build more resilience into the business before anything goes wrong, which enables you to recover quicker, and in the best way."
How important is it to recover quickly?
KK: "Crucial, but not in a rushed way, which can mean you further damage the business, for example by letting customers down and losing them. Your plan must enable you to minimise customer impact. The gold standard is being able to recover without customers even knowing something bad has happened."
RH: "If you've established a good relationship, customers will show some goodwill in the short term. As time goes on, you may lose some if you're still recovering."
Should I plan for the worst?
KK: "Yes. You must plan for all likely eventualities, because they have different consequences. And loss of your whole business is different to loss of stock, for example. Concentrate on what's most likely first."
RH: "Some owners are put off by the seeming enormity of business continuity planning, but you can start small and develop it over time. You should have something in place."
What are the key stages of drawing up a disaster recovery plan?
KK: "Carry out a risk assessment first to identify threats, then think about their possible impact on your business in different scenarios. Then, you need to develop your recovery strategies, determined by the previous two steps. There needs to be hierarchy; understand what's most critical for your business, as well as essential and complimentary. The final step is to test your plan, by practicing and improving where possible. Your employees should know what roles and responsibilities they have following different disaster scenarios."
What about suppliers?
RH: "Good communication with both should be built into your plan. Better to contact a valued supplier and tell them what has happened, rather than letting them read about it in the paper or find out from one of your competitors. Good suppliers will also want to work with you to protect the relationship."
How important is adequate business insurance?
RH: "Essential. You need enough cash when you're recovering from a disaster and have no means to earn revenue. Insurers and other consultants can also advise small businesses about disaster recovery plans, but owners should play a key role in drawing up their own. They know their business best."
Travelers may be one of the oldest insurance companies in the USA, but worldwide it's insured more than one million small businesses. It began insuring UK SMEs in 1990 and continues to offer a range of insurance cover for small businesses.
If you're concerned about business continuity in a disaster situation, one simple option could be to use a third party company to host your email and business information online ('in the cloud'). If something should happen to your premises, you can still continue to work remotely accessing all your essential business data. See how Microsoft 365 can protect your business as well as improving productivity.
Sponsored content brought to you by Microsoft, © 2016