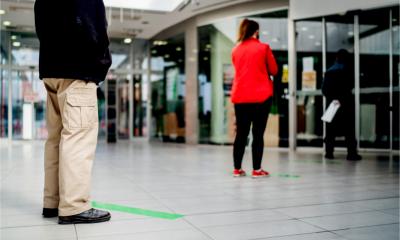 The Government has started to lift the coronavirus lockdown. Workers who cannot work from home have been encouraged to return to work where it is safe to do so.
On 1 June 2020, the first wave of businesses began to re-open. The first swathe of businesses included outdoor markets and car showrooms. A wider range of businesses were permitted to open on 15 June, including non-essential retail businesses and outdoor attractions in the visitor economy. On 4 July further businesses were permitted to open including:
It should be noted that the coronavirus lockdown is being lifted to different timescales depending on where in the UK businesses are based as the devolved Government's ease restrictions according to their own criteria.
Even if your business is not amongst these first waves of re-openings (or you want to wait a little longer before opening your doors to the public), there are plenty of things you can do now so start preparing for a gradual return to business.
Assess your workplace
You need to assess the work your staff carry out, where they do it, how they do it and who they are likely to encounter as part of their working day.
If staff cannot work from home, the Government has said they can return to work if it is safe to do no. Staff who can work from home, should continue to do so for the time being as it is the safest place for them.
Assess whether staff currently on furlough can work from home when they return from furlough. Review the work they normally carry out, what tech they might need to facilitate home working and their personal circumstances. Have they, or anyone they live with, been told they are at higher risk of infection? If so, working from home might be the only feasible option until restrictions are fully lifted.
Assess the risks posed by your workplace. If you have your own office or building it is easier to control who uses the space and how they use it. It is also easier to control safety measures such as cleaning, access to hand sanitisers and how close people work in proximity.
If you use a shared workspace, hotdesking or open plan office, you may deem it safer to continue working from home for the foreseeable future.
Assess how staff get to work
If staff must come in to work to carry out their job, can you stagger start and finish times?
Review how staff normally get to work. Are there safer options that avoid public transport? Can they walk or cycle? Is driving to work an option? Would you have enough parking spaces for people to drive to work if you only have essential staff coming into the premises. Those using public transport could be required to wear a face mask and check their temperature before leaving for work.
Review safety measures in the workplace
Maintain social distancing in the workplace. You may only be able to use every other desk or workstation. Think about entry and exit points and how people move around the space to complete their work. Can you ask staff to enter the building through one door and exit through another?
Close or limit access to communal spaces such as waiting areas, kitchens and rest rooms. Could staff bring in their own reusable cup which they take home to wash at the end of every day?
Limit face-to-face meetings. Make use of communication and collaboration apps so people can work together remotely.
Consider whether staff and customers should wear personal protective equipment? Make sure you have enough hand sanitising points and a more frequent cycle of cleaning.
Can you install shields or barriers that will separate staff from each other and the public?
Do you use company vehicles? Consider allocating specific vehicles to specific individuals to limit the number of people using each vehicle. The Government have published guidance on using company vehicles.
If you serve the public, can you provide your service by delivering it to them electronically or physically rather than having them collect in person?  Can you facilitate online ordering and payment?
Whether you're selling in person or online, Square can help you take all kinds of payments quickly and securely.
Return to work advice for specific types of business
Do you run a café, bar or restaurant? It is likely that you will have to limit numbers in your premises at any one time. Can customers order and pay for their food or drink using an app and then collect it from a collection point so that they have limited contact with your staff? Consider opening only to those that have a reservation so you can control numbers and space diners out to maintain social distancing. The Government have published specific guidance for Food outlets offering takeaways and delivery.
Are you a non-essential shop? You should follow the guidance that was issued and implemented by those retailers who have remained open throughout the pandemic. You should control entry and exit points and consider limiting numbers in your shop. Enforce social distancing rules between customers and between customers in staff. Consider whether you need to install a screen to create a barrier between people. Is it possible and safer to insist on electronic payments only? Can you allocate workstations to a single member of staff or will you need to clean them between shifts? The Government guidance for shops will help you assess the risks and measures you should take.
Are you a hairdresser, beautician or other therapist? Before opening your salon to the public, you should consider the measures announced by the Government. These include: say no waiting areas and magazines, no face-to-face talking (communication must be limited and done via the mirror), both the hairdresser and client must wear masks, gloves must be worn until the hair has been washed, no blow drying (if possible), all equipment must be disinfected between clients and strict social distancing must be maintained. This limits the number of clients you will be able to see in any one day. Salons also have to record customers' names so they can be contacted if necessary.
Do your workers provide services in people's homes such as cleaners or care assistants? Consider providing them with personal protective equipment and allocating a specific worker to each household to limit the number of people they encounter. The Government have provided guidance for those businesses providing a service in people's homes.
Are you a delivery business? Can you stagger deliveries and collections to limit the amount of people in close proximity? Can you use tech to sign for collections and deliveries electronically? Can you establish a safe place items can be left so that items do not have to be signed for in person?
Are you an office-based business? The Government advice is that where possible, office staff should continue to work from home. Face-to-face meetings should be avoided and where this is not possible visitor numbers should be limited. A record should be kept of all non-staff who visit the office. Social distancing should be implemented, workstations should be allocated to specific people and cleaning and hand sanitisation points should be increased. Consider closing communal areas such as canteens and rest areas to maintain social distancing.
The Government has published twelve guides, each covering a different type of work, explaining how employers, employees and freelance workers can work as safely as possible. Guides cover
Employees and returning from lockdown
It is likely that many staff will be nervous about returning to work as restrictions are gradually lifted. You should consult them about plans as they are likely to be best placed to suggest how a safe return to work might be possible. Give staff plenty of notice about returning to work - especially those with care responsibilities (although some year groups have returned to school, some will not return to school until September and the school holidays are around the corner too).
You should also consider the mental health of your staff. Some staff may have experienced bereavement, financial difficulties and isolation during the lockdown. Mind has produced practical advice on taking care of mental health and has the NHS.
A final note of caution
As lockdown measures are gradually lifted, it is entirely possible that infection rates will begin to climb again. You should be prepared to make contingency plans. Review what has worked during lockdown and what measures could be improved in case the country needs to revert to full or partial lockdown.