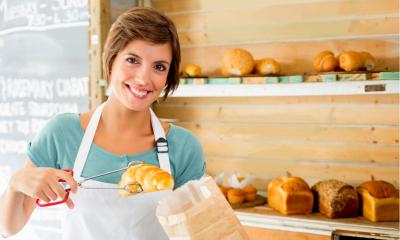 Small businesses across the UK are facing a stark realisation as the coronavirus crisis unfolds. If you're not visible online, you may not survive. But it's not too late. Here are five ways to raise your online profile and keep trading
Most small businesses on the high street get their trade from people passing by and via local word of mouth. All that has changed with the coronavirus crisis. Those businesses that are riding the storm have an established online presence and are using digital tools to power their way through.
But it's never too late to do something about it. Your existing customers have not abandoned you – they just need a new way to keep supporting you. And that means having an online presence.
Revamp your website
Does your website look like it's gathering dust? If so, you're not alone. Many small businesses set up a website and then leave it ticking over. That can mean the first thing visitors see when they go to your website is out-of-date images, old news stories or an abandoned blog.
So, it's time for a spring clean. Start by posting information about how you are operating during the pandemic. Have you changed your opening hours? Are you operating a click and collect or takeaway service? How are you ensuring that staff and customers are safe? Can shoppers buy online?
Use this time to revamp your website - publish new images, get your blog up and running again, refresh your about us page and add new product information. This could even be the perfect time to start selling online – either via your own ecommerce website or using an online marketplace like Amazon.
Whether you're selling in person or online, Square can help you take all kinds of payments quickly and securely.
Get to grips with SEO
If you've got a website, you need to make time for search engine optimisation. SEO helps your website to feature prominently in search results; without it, you can easily become invisible online.
It's about optimising your website so that when someone searches for a business like yours – and in your area – your business comes at or near the top of the list.
Start by researching which keywords and phrases are most commonly used when someone is searching for the kinds of products or services that you offer. Google's keyword planner is a useful tool.
The next step is to insert these keywords and phrases into your website content as well as in meta tags, page descriptions and image tags. Doing this will help Google to find you. However, Google will spot a cynical attempt to stuff a website full of keywords. So, make sure they appear naturally within good-quality content. And post new content regularly to show Google that your website is up-to-date.
Use online reviews and testimonials to build trust
Shoppers use reviews, ratings and testimonials for reassurance when they're buying everything from food to holidays.
However, customer feedback can be a double-edged sword because you may well get some complaints as well as praise. But the good news is that shoppers understand that there will always be one or two people with an axe to grind. It's the big picture that counts.
In fact, concerns about fake reviews mean that any business claiming a 100% customer satisfaction rating is likely to be viewed with suspicion.
One way to manage reviews is to use an independent service such as FeeFo or Reevoo. They work on your behalf by contacting your customers and collecting their feedback. The reviews – good and bad – are then added to your website.
Take advantage of online advertising
Pay-per-click advertising (PPC) is a good way to get your business to the top of search engine results. These sponsored links appear above the natural search results and help your business to stand out from the crowd.
Popular PPC providers include Google AdWords and Microsoft Advertising. These services allow you to create targeted ads using specific keywords that take online visitors to a landing page on your website. The good news is that you only pay when someone actually clicks on the ad and you can control your advertising costs by setting limits.
PPC is all about conversions. With a certain amount of trial and error, you can discover which key phrases attract the customers who are looking for your specific products or services. There are plenty of online tools that can help you optimise your ads too.  Then it's up to you to use your landing page to convert that interest into a sale.
Raise your game on social media
If you have been half-hearted about using social media to engage with your customers, now's the time to get serious.
Start by identifying who you want to reach and choose the social media platforms that will be best for your business. LinkedIn is essential if you run a business-to-business operation; Facebook is essential if you sell to consumers. Twitter and Instagram are also incredibly popular and can help you reach a wider audience.
Your profile on social media must reflect your brand values and support your vision. It's a place where you can let your personality shine - show people who you are and what you believe in. It's also important to remember that social media platforms have become very public customer service channels. Protect your reputation by engaging with your customers and always deal with any issues politely and promptly.
Social media is all about making connections and building relationships. Overt selling is frowned upon; helping people is the way to go. By putting in the effort now, you'll be rewarded with more sales over time.