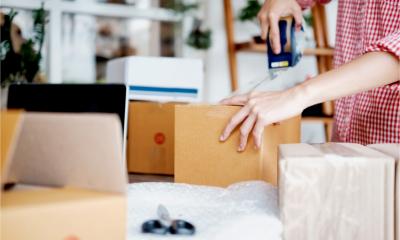 Small high street firms across the UK are taking their businesses online in order to keep trading during the COVID-19 pandemic. Here's how you can start selling online
If you're one of the many small businesses across the UK that has had to close its doors during the coronavirus lockdown, selling online could be your best chance of long-term survival.
Here are some of the most important things to consider when creating your own ecommerce business.
Choose the right ecommerce software
The easiest way to start selling online is with an off-the-shelf online shop template like BigCommerce or Shopify. These ecommerce systems will do everything you need, including helping you to take payments online. Another option is to get an all-in-one solution which offers credit card processing, point of sale and an ecommerce site builder from an online payment provider such as Square.
Design a great website
Customer experience is the name of the game with any ecommerce website. Yours should be appealing, easy to navigate and it should work just as well on phones and tablets as it does on a laptop. Online shoppers want to see pictures of the products they are looking to buy, from different angles and with the ability to zoom in. It's also a good idea to publish a picture of you and your team on your website to show the real people behind the online brand.
Build trust with your customers
Trust is paramount when it comes to persuading people to buy from you online. You can build that trust by including lots of information about your products, publishing customer testimonials and having a friendly about us page. You're required by law to publish your address on your website but it will also help to reassure shoppers if you provide an email address and a phone number. Another way to demonstrate your credibility is to display the logos of trade bodies and schemes you belong to including merchant accreditation schemes like SafeBuy.
Put customer service first
Demonstrate your commitment to customer service by being clear about your delivery promises and your returns policy. Testimonials and reviews should include feedback on your customer service as well as the products you sell. Make it easy for customers to get in touch and respond to their queries promptly.
Whether you're selling in person or online, Square can help you take all kinds of payments quickly and securely.
Get your delivery strategy right
Your delivery strategy covers everything from how you present delivery information on your website to the packaging you use. There are plenty of delivery options for small firms to choose from so make sure you offer a delivery service that meets the needs of your customer base. Delivery is all about the details – provide dispatch dates and outline postage prices clearly. Offering free delivery can boost sales significantly.
Make your website fast
According to Google, a 30% increase in page load speed can result in a 30% increase in business – and a fast ecommerce website will rank better too. This mainly comes down to the hosting package you choose so it can be worth paying a little more.
Get found on Google
Search engines like Google love websites with lots of up-to-date content so make sure you include plenty of product information and keep it fresh. In simple terms, search engine optimisation (SEO) is about making sure that key search words and phrases are included liberally in your website content - in text, product descriptions, headings, page names and image titles. Specific words and phrases will help attract customers looking for products exactly like yours.
Take PayPal
Many shoppers also sell items on sites like eBay so they may have money to spend in their PayPal accounts. Ecommerce experts say that taking PayPal can increase your sales by 10%.
Make buying easy
Many online stores lose buyers at the checkout stage. Offering address look-up from a postcode is one way to make the process faster and easier. Avoid asking for too much information and don't insist that customers set up an account with a password – most shoppers hate having to do this, especially when it's their first purchase.
Sell your products via online marketplaces
If the idea of setting up a dedicated ecommerce store is daunting, you could start selling your products via online marketplaces such as Amazon and eBay. Although eBay started life as an auction site, some 80% of its sales are for fixed-price items and it's used by thousands of small firms as a shop window.
Accurate product descriptions, good images, clear delivery information and positive reviews are all critical to your success on marketplaces such as Amazon and eBay. Amazon also offers the Fulfilment by Amazon service. Small businesses send their stock to Amazon and it takes care of storage, delivery, customer service and returns handling. Although this option costs money, it can save on warehouse and staffing costs. Other useful marketplaces include Gumtree and Etsy.
Try drop-shipping
Many product suppliers offer a drop-shipping service – it means that you offer a range of products through your website but when you get an order, it is sent to the supplier and they fulfil it for you, using your branding. It's important to choose a supplier carefully and check the quality of their products.