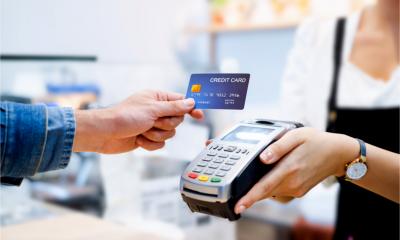 The cashless society has got a lot closer because of the coronavirus pandemic. Many businesses that are open are insisting on card payments as part of social distancing; others have started to sell online. Here's how your business can take card payments safely
For those businesses that are open, cash is out and contactless is definitely in. Meanwhile, for those businesses that remain closed, ecommerce and online payments are providing a way to keep trading.
If you're used to customers paying in cash, here's how technology can help you stay afloat and take payments safely.
Taking card payments in your premises
Most payments in shops and cafes are now paid by card and thanks to contactless technology, cards are often used for even the smallest amounts. The upper limit for contactless payments was increased from £30 to £45 in April 2020.
Although card payments carry costs for the merchant, you're likely to get more business by accepting cards. Start by choosing an "acquirer" that will provide a card terminal and set up a merchant service agreement with you. The terminal gives you authorisation to take payment, so you know that the card isn't stolen and that your customer has enough money in their account to make the purchase.
Many acquirers offer special packages for small businesses so it pays to shop around. Charges for taking credit and debit cards (known as interchange fees) also vary. Credit cards are priced on a percentage of the value of the card transaction whereas debit cards are priced per transaction.
An integrated point-of-sale terminal will allow you to give customers an itemised receipt. Most retailers rent their terminal which means it is serviced and updated by the provider. Your card terminal can help you monitor transactions, refunds and overall sales.
One way that many small businesses are continuing to trade is by taking payments over the phone and then delivering items to their customers. If you have started taking payments by phone, always ask for the card's Card Security Code (CSC) to guard against fraud.
Whether you're selling in person or online, Square can help you take all kinds of payments quickly and securely.
Taking payments online
A secure payment system is at the heart of any ecommerce business. To take payments online, you'll need an internet merchant number and a secure payment page where customers can provide their card details. A Payment Service Provider (PSP) provides this service and usually charges both a set-up fee and a per transaction fee.
As an additional security measure, you can use Verified by Visa or MasterCard SecureCode to ensure that transactions are not fraudulent. You can also offer other secure payment methods such as PayPal.
A good option for small businesses is to choose an all-in-one website package that offers ecommerce website templates and allows you to process payments using the provider's payment gateway. These are offered by the likes of Shopify and iZettle and online payment providers like Square.
As your business grows, it may be more cost-effective to manage your own online payments. To do this, you'll need a merchant account. You may have one already if you take cards in your premises. If not, merchant accounts are offered by all the major banks. You'll also need a payment gateway, either from your acquirer or from a payment services provider, such as Worldpay, Sage Pay or Sellerdeck.
Understanding costs is a critical in selecting the right solution for your business. Some providers offer a single, monthly fee based a specific number of transactions. Others charge set-up fees, monthly fees, authorisation fees and transaction fees. There can also be separate charges for security measures, such as an SSL certificate for your website.
Above all, your ecommerce website should provide a simple and secure way to pay for customers. Once it's up and running, you can focus on spreading the word about your online business and watch the orders come in.