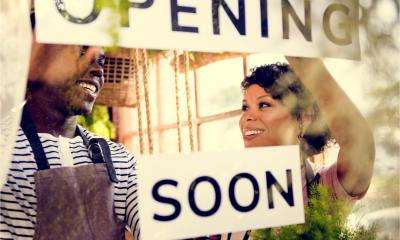 Shops, cafes and other businesses on high streets across the UK have had a tough time during the coronavirus. The lockdown restrictions are being lifted in line with the Government's staged approach for coming out of lockdown – Our plan to rebuild. Businesses have been gradually re-opening in phases since the beginning of June, providing they could meet the Government's "COVID Secure" guidelines. We look at which businesses can re-open
Hairdressers and barber shops
Hair salons and barbers were allowed to re-open on 4 July. But that does not mean it is business as usual for these companies. Even though demand for their services is high, hairdressers and barbers have had to change their approach to bookings to comply with the new guidance and ensure there are fewer customers in the salon at any one time.

It is more important than ever to have a good appointment system with staggered shift times and increased opening hours. The requirement for social distancing means walk-in appointments will remain a thing of the past for the time being.
Social distancing is certainly challenging when it comes to cutting hair so salons have had to implement measures that reduce risk. Both hairdressers and customers should wear masks. Wearing aprons and gloves is also a good idea. Once hair has been washed with shampoo it may be safe to take the gloves off. Clients should wash or sanitise their hands when they enter the salon, they should be discouraged from arriving early and the ubiquitous trashy mags and hot drinks have gone for now. The typical chit-chat should be kept to a minimum too. Going to the hairdressers isn't the same but demand for a professional cut and colour has not waned.
Whether you're selling in person or online, Square can help you take all kinds of payments quickly and securely.
Cafés, pubs and restaurants
Cafés, pubs and restaurants were also allowed to re-open on 4 July although some decided that they weren't able to open on that date due to the requirements aimed at keeping customers and staff safe. Some food businesses decided to continue operating as a takeaway service only initially using delivery providers such as Just Eat and Deliveroo, or their own staff. Others asked customers to buy online and collect the food in person. If you're one of these businesses, now's the time to update your website so you can keep customers informed and take online bookings. If you are operating a takeaway service, it's a good idea to adapt your menu so that you offer a few crowd-pleasing dishes that travel well.

Even though the restrictions have been eased, if you have re-opened you still need to maintain measures to keep customers and staff safe. If customers come to your premises to order or collect food, you have to make sure there are social distancing measures in place. If diners are 'eating in', you have to offer socially-distanced seating inside your premises and/or offer somewhere to eat or drink outside. You must keep a record of names and contact details for customers for 21 days to enable tracing of customers should a customer subsequently test positive for coronavirus. Customers seated indoors must be limited to groups of up to two households (including support bubbles) while those sitting outdoors should only be occurring in groups of up to two households (or support bubbles), or a group of no more than six people from any number of households. Social distancing of two metres or one metre with risk mitigating measures where two metres is not possible must also be adhered to.

Other measures you might employ include operating a one-way system, taking steps to avoid queues, reconfiguring seating to maintain social distancing between groups of customers, providing guidance on social distancing and hygiene
You'll also need to meet government guidelines on hygiene and social distancing in the kitchen. You may need to make extra checks to ensure it is safe to open, your drivers should wear masks and gloves and customers should pay by card instead of with cash.
To encourage customers to start returning to cafés, pubs and restaurants, the Government launched the 'Eat out to help out scheme'. The scheme offers diners a 50% reduction, up to a maximum of £10 per person, to all diners who eat in a restaurant or other eligible food establishment in August. The discount applies all day, every Monday to Wednesday, between 3 and 31 August 2020. Businesses can then reclaim the discounted amount through an online service, supported by HMRC. Claims can be made on a weekly basis and will be paid into bank accounts within five working days.
Clothes and shoe shops
In the first three months of 2020, the Office for National Statistics (ONS) reports that the textiles, clothing and footwear sectors saw a 35% decline in retail sales. Lockdown certainly didn't help but shoppers also cut back on non-essential goods as the economic consequences of the coronavirus pandemic became clear.
Demand for clothes and shoes is likely to bounce back but whether it returns to previous levels remains to be seen. These non-essential retail stores re-opened on 1 June.
Clothes and shoe shops also had to implement measures to reassure customers that it's safe to come in. Many people will continue to shop online so retailers must also make sure that side of their business is running smoothly.
In-store measures should include social distancing and, if possible, stores should have separate entrances and exits to allow a one-way flow of customers. Spaced out queues, screens at the tills, sanitising stations and card payments were also recommended or required.
Access to changing rooms and customer service may have to be limited or withdrawn altogether where social distancing is not possible. That will have a knock-on effect on returns policies if customers are unable to try on items in-store.
Like many other retail activities, clothes shopping isn't as much fun as it used to be as shops prioritise customer safety above all else.
Garden centres
Lockdown has been tough on garden centres, many of which have had to throw away thousands of plants. However, some garden centres were allowed to stay open throughout the crisis because they also sold pet supplies which are classed as essential. And many others found ways to sell online.
Now all garden centres can open but they are having to implement strict social distancing to keep staff and customer safe. The Government has recommended that garden centres follow the Safe Trading Guidance produced by the Horticultural Trades Association (HTA).
Many garden centres are reducing the amount of car parking spaces they offer in order to control the number of people in their premises at any one time. Cafes remain closed so visits to garden centres are likely to be shorter than they once were.
Car dealerships
Car dealerships in England re-opened on 1 June.
March is traditionally the busiest month of the year for car sales and dealers were allowed to continue to sell new and used cars online and over the phone during lockdown.
Autocar reports that most dealers moved to a model of taking deposits for cars pending delivery during lockdown. This click and collect service allowed them to complete transactions and deliver cars to their new owners even though the main showroom was closed.
Estate agents
The Government said property viewings are allowed as part of its strategy to reopen the housing market. Ideally, these should be virtual viewings using video but physical viewings are allowed in certain situations. In addition, estate agent offices and show homes can open. However, all this must be achieved by observing hygiene and social distancing rules.
In-person viewings must be by appointment only, with no open house viewings. All parties should remain two metres apart, internal doors should be open, and the occupier should vacate the property for the duration of the visit. Once the viewing has taken place all surfaces and door handles should be thoroughly cleaned.
According to government data, some 450,000 buyers put their moving plans on hold when lockdown began. As removal companies are now allowed to operate, these moves can get going again. However, anyone with the virus, or who is self-isolating, should not be moving.
The chancellor extended the nil rate band of Residential Stamp Duty Land Tax from £125,000 to £500,000 until 31 March 2021 in an attempt to kick start the housing market.
Bicycle shops
Bicycle shops were allowed to stay open during lockdown and many of them prioritised bike sales and services for key workers. Bike shops are likely to be very busy in the coming months. Sales of bicycles have already shot up and now the Government has announced an investment of £2bn in cycling and walking infrastructure to relieve pressure on public transport.
Bike shops can stay safe by working on an appointment-only basis for now or operating a collect and delivery series. Customers that want repairs should make arrangements in advance and hand over their bikes outside the shop.
Gyms and fitness centres
Even during the strictest periods of lockdown, people were encouraged to take an hours' exercise each day. Brits can now exercise outside as much as they like, and they are also allowed to meet up to six people from different households (while staying two metres apart). Personal trainers have been able to offer one-to-one sessions in outdoor spaces since early July. In addition, golf, tennis and basketball can be played with members of your household or with one other person, while staying two metres apart.
Gyms had to make big changes to their facilities before they could open on 25 July. Machines are spaced out and class sizes have been significantly reduced. Above all, gyms have had to introduce rigorous cleaning schedules that ensure equipment and other touchpoints are cleaned after every use.