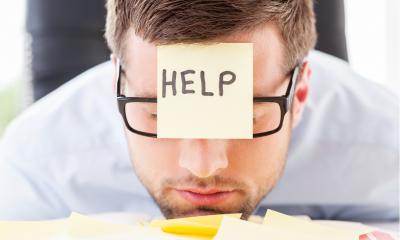 More than a third of UK workers have thought about quitting their job due to stress and millions of working days are lost to mental health-related issues every year.
New research commissioned for Stress Awareness Week by Investors in People has found that eight in ten people (79%) have experienced stress at work. More than a third (35%) say they have even considered leaving their current job because of work-related stress.
More than three-quarters (78%) of those polled also admit they are less productive when feeling stressed. Heavy workloads, tight deadlines, ill-equipped managers and poor working environments all contribute to the pressures felt by people in the workplace.
In 2017/18, 15.4 million days were lost to mental health-related issues, according figures from the Health and Safety Executive. The findings of this latest research show that many employees find it hard to leave their work problems behind at the end of the working day with more than half (54%) saying they have experienced work-related stress at home.
Other key results of the survey include:
27% said their employer did not support their mental wellbeing;
Only 30% said their workplace has a culture of openness around mental health;
20% said they would rather have workplace support for their mental health than a 3% pay rise.
Paul Devoy, chief executive officer of Investors in People, said: "We want HR managers to feel empowered in their ability to design mental health policies as standard in their workplace. This should not just be an afterthought or a 'nice to have' but central to a company's brand values. Business leaders who fail to see the importance will suffer with high staff turnarounds and difficulty in recruiting the right talent as the demand for support continues to increase."
Investors in People also says more employers need to properly train their line managers in how to support team member's mental health with a focus on listening to their concerns, adopting a flexible attitude and ensuring that solutions are tailored to the person's needs.
It is also important for employees who have a mental health concern to speak up as soon as they feel comfortable so that employers can help. Building open and honest relationships at work and being pro-active is key to ensuring that employees get the support they need.
Written by Rachel Miller.