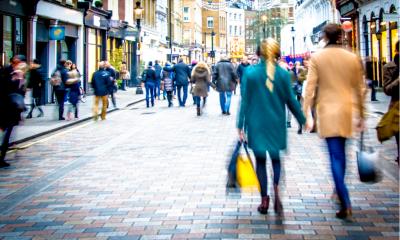 Retail sales growth has slowed in the year to October, after four consecutive months of growth during the summer.
The latest monthly CBI distributive trades survey of 104 firms (including 45 retailers) has found that sales volumes were significantly below average for the time of year in October. However, retailers expect sales growth to recover in November.
Within the retail sector, the CBI reports that there were notable declines in the furniture and carpets sector as well as in hardware and DIY. Meanwhile, motor trades saw a strong pick-up in sales growth in the year to October, but a slower rise is expected in November.
However, the picture on internet retail sales was more upbeat, with year-on-year growth in October speeding up to its quickest pace since January 2017. Internet sales are expected to expand at an even faster pace next month.
The CBI predicts that momentum in the retail sector is likely to remain relatively subdued as firms continue to grapple with weak household income growth and online competition.
"Retail sales have begun to cool, as the boost from the summer heatwave and World Cup celebrations fades away," said Alpesh Paleja, CBI principal economist. "It's clear the challenges facing the retail sector are significant. The double whammy of the sluggish recovery in household incomes and digital disruption is making trading conditions tough and prompting a deeper structural shift in business models.
"The autumn Budget was a perfect opportunity to address these challenges, through further action on business rates, which have become an additional burden for the high street. While smaller businesses will be relieved at the chancellor's announcements, larger retailers will continue to suffer until there is a full, in-depth review of the business rates regime."
Another new survey this week has found that 91% of UK shoppers say they would visit high street stores more frequently if they could buy items that are hard to find anywhere else.
Research by The Great British Exchange found that most shoppers polled would use bricks and mortar stores more often if it meant being able to find something "unique"; two-thirds said they wanted more locally-made items and British manufactured products.
Matthew Hopkins, founder of The Great British Exchange, said: "Shoppers are bored with the current offering on the high street and it has never been more important for retailers to find a point of difference that sets them apart from the store down the road. Even more critical is the need to give consumers something they can't find online."
The study found that 20% of the shoppers surveyed did more than half of their shopping online. Shoppers said that flexible opening times, including late night opening and in-store events, would encourage them to shop on the high street more often.