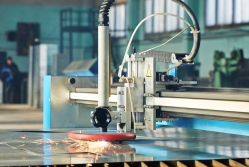 Vince Cable has announced a new government scheme that will allow companies to bid for a share of £100 million to help them strengthen their domestic supply chains and bring manufacturing back to the UK.
The funding, part of the Advanced Manufacturing Supply Chain Initiative (AMSCI), is intended to encourage suppliers to "reshore" in the UK. It will provide research and development support, skills training and investment capital.
Five previous rounds of AMSCI funding have secured nearly half a billion pounds of public-private investment for 44 projects in the UK. Previous recipients of AMSCI funding have included technology for increasing the scale of 3D printing of metals and reshoring the manufacture of cats' eyes back to the UK.
Business secretary, Vince Cable said: "I want to ensure that Britain's supply chains are up to the task of supporting the sector in the long term. Our industrial strategy, which has given business the confidence to invest, is paying dividends in the reshoring we have seen so far. We will continue to support businesses to secure more highly skilled jobs and a stronger economy."
Terry Scuoler, chief executive at manufacturers' organisation EEF, said: "Our own research shows that in the last three years, one in six companies has reshored production back to the UK with many turning to a UK-based supply chain for parts and components."
Also this week, the Office for National Statistics (ONS) has released figures showing that UK manufacturing output in April 2014 was up 0.4% on the month and up 4.4% on the year.
David Kern, chief economist at the British Chambers of Commerce (BCC), said: "To build on these figures, it is imperative that further steps are taken to broaden the recovery towards investment and exports, where manufacturing can have a positive impact. The government must keep boosting efforts to support UK exporters and improve access to finance for growing firms."
The manufacturing sector supports two and a half million jobs and contributes almost £140 billion a year to the UK.
Related resources: