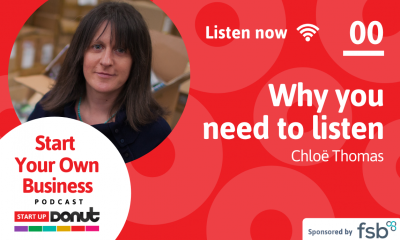 If you want to find out how to start your own business and get off to a great start, you've come to the right place.
In six episodes of this first eight-part series, a leading expert provides tips on a specific aspect of starting your own business. Many of the basic essentials are covered, including whether to set up as a sole trader, limited company or partnership and how to register. 
You can find out about sources of start-up funding and how to keep your cash flow healthy. One episode will tell you how to create a winning brand and come up with a good business. Another provides a basic introduction to marketing. We also explain how to sell online and look after your mental and physical health when running your own business. 
Two further episodes enable you learn invaluable start-up lessons from actual business owners – those who've been there and done it. 
If you're starting your own business or thinking about it, the Start Your Own Business podcast is unmissable. It could save you lots of time, money and effort.
About Chloe Thomas
We're delighted to introduce Chloe Thomas as the host of the Start Your Own Business podcast. Chloe already hosts two highly successful podcasts – the multi-award winning eCommerce MasterPlan and the shiny new marketing podcast Keep Optimising. She has interviewed hundreds of guests across the two podcasts and is ideally placed to get your burning start-up questions answered by our expert guests.
As well as her podcasts, Chloe is also the author of five eCommerce books including the international best-seller 'eCommerce Marketing: How to Get Traffic that BUYS to Your Website'.
About our sponsor
Thanks to the Federation of Small Businesses (FSB) for sponsoring this first series of the Start Your Own Business podcast.
FSB help smaller businesses to achieve their ambitions. They are the leading voice of 5.8 million small businesses and self-employed people across the UK, working to promote and protect their interests.
Whether they're influencing key policy decisions in government, offering specialist advice on everything from HR to insurance, or running local networking events, the needs of small businesses come first.
FSB members benefit from a range of market-leading business services and support, including advice, financial expertise, and a powerful voice heard in governments across the UK. If you're just starting out on your business journey, FSB can help you every step of the way at fsb.org.uk/start.
What next?
To make sure you don't miss an episode:
Find 'Start Your Own Business' on your podcast app of choice and hit the subscribe button - we recommend Apple Podcasts and Spotify
To get tips, support and inspiration from other small business owners: