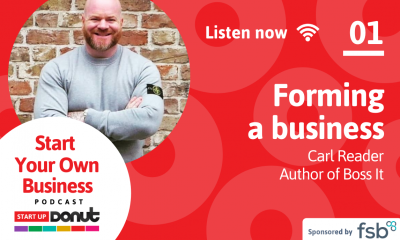 The pros and cons of the main business formation options and how to legally register your new business
In this episode, we speak to expert Carl Reader, who talks through the main options for forming a business, how to register and the steps you need to take before reaching that point. He also touches on whether you need to register for VAT, business bank accounts and working with an accountant.
Show notes
Find links to all the resources mentioned in this episode, along with related content, below.
Registering your business
Tax and VAT
Sector-specific regulations
About Carl Reader
Carl is a serial entrepreneur, chairman of business advisory firm d&t, and the best-selling author of 'Boss It'. He features regularly in the national press and on stage globally. Carl has helped thousands of business owners either start or grow their business by helping them understand that business isn't difficult, in language an eight-year-old can understand.
About our sponsor
Thanks to the Federation of Small Businesses (FSB) for sponsoring this first series of the Start Your Own Business podcast.
FSB help smaller businesses to achieve their ambitions. They are the leading voice of 5.8 million small businesses and self-employed people across the UK, working to promote and protect their interests.
Whether they're influencing key policy decisions in government, offering specialist advice on everything from HR to insurance, or running local networking events, the needs of small businesses come first.
FSB members benefit from a range of market-leading business services and support, including advice, financial expertise, and a powerful voice heard in governments across the UK. If you're just starting out on your business journey, FSB can help you every step of the way at fsb.org.uk/start.
What next?
To make sure you don't miss an episode:
To get tips, support and inspiration from other small business owners:
Join our thriving Facebook group the Donut Small Business Collective