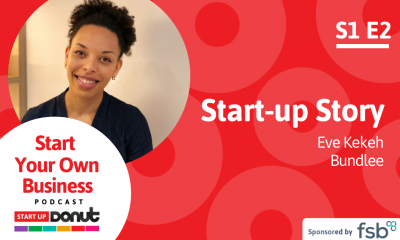 Pick up top tips and learn key start-up lessons from the biggest experts of all – those who've actually been there and started their own business
In this episode we speak to Eve Kekeh, London-based founder of Bundlee, the UK's first and most popular baby clothing rental subscription service. Eve explains why she started her business and retraces her start-up journey, sharing key lessons that she learned along the way.
Find out what Eve would do differently if she had to start her business again and what her key start-up tips are.
Show notes
Find links to all the resources mentioned in this episode, along with related content, below.
Grant funding
Forming a business
Pricing
Building a website
Accounting software
Marketing tools
About Eve Kekeh of Bundlee
Eve is the founder of London-based Bundlee – the UK's first baby clothing rental subscription service. Parents can rent bundles of high-quality baby clothes and swap outgrown clothes for the next size up. The service was created to help parents keep pace with their baby's growth, from newborn to two years old, and as well as saving families time and money, reusing baby clothes is more sustainable.
Follow Bundlee on Instagram.
About our Sponsor
Thanks to the Federation of Small Businesses (FSB) for sponsoring the Start Your Own Business podcast.
If you've got a brilliant business idea or you're on your way to start-up success, FSB is here to help you every step of the way. As the leading voice of 5.5 million small business owners and the self-employed, they're helping entrepreneurs like you to achieve your ambitions.
Business life can be tough, but with FSB by your side, you won't have to go it alone. From market-leading business services like 24/7 legal advice and financial expertise, to local networking and a powerful voice heard in governments across the UK, you'll always have support by your side. With FSB's updates on the latest guidance relating to important issues like trade, digital skills, late payments, and sustainability, you'll stay one step ahead.
Find out more about how FSB can support you to start, run and grow your business at fsb.org.uk/join.
What next?
To make sure you don't miss an episode:
To get tips, support and inspiration from other small business owners: