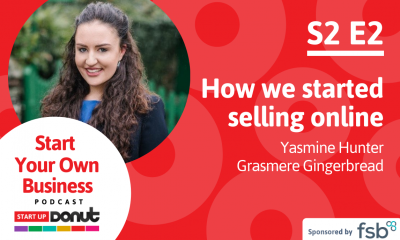 The COVID-19 lockdowns meant many businesses had to close their doors to customers. For some businesses, who already had an online presence, selling online became a vital lifeline and source of income. Others, who did not have an online presence, were faced with having no way to reach customers. The need for all small businesses to have an online presence became crystal clear almost overnight
Luckily, Yasmine Hunter of Grasmere Gingerbread and her family had ventured into the world of ecommerce back in 2006. Yasmine tells us why the family business first made the decision to start selling online. She also shares their first-hand tips and advice and explains the importance of back-end systems and in-house resources that will enable a small business to fulfil online orders.
Show notes
Find links to content related to the topics covered in this episode below.
Selling online
Branding
Working with freelancers
Online payments
About Yasmine Hunter
Yasmine Hunter, marketing, sales and events executive, helps run Grasmere Gingerbread with her parents, third-generation owners Joanne and Andrew Hunter. As a member of the family business, Yasmine says she has been working in the business 'forever'.
The business can trace its origins back to 1854, when Victorian cook Sarah Nelson invented Grasmere Gingerbread and started selling it. As well as gingerbread – which is said to be the world's best – Grasmere Gingerbread sells award-winning rum butter, toffee, fudges, chocolates, conserves, ginger beer and other mouthwatering delights.
In 2006, Grasmere Gingerbread started to sell online, a business decision that has proven to be a very wise one.
About our sponsor
Thanks to the Federation of Small Businesses (FSB) for sponsoring the Start Your Own Business podcast.
If you've got a brilliant business idea or you're on your way to start-up success, FSB is here to help you every step of the way. As the leading voice of 5.5 million small business owners and the self-employed, they're helping entrepreneurs like you to achieve your ambitions.
Business life can be tough, but with FSB by your side, you won't have to go it alone. From market-leading business services like 24/7 legal advice and financial expertise, to local networking and a powerful voice heard in governments across the UK, you'll always have support by your side. With FSB's updates on the latest guidance relating to important issues like trade, digital skills, late payments, and sustainability, you'll stay one step ahead.
Find out more about how FSB can support you to start, run and grow your business at fsb.org.uk/join.
What next?
To make sure you don't miss an episode:
To get tips, support, and inspiration from other small business owners: