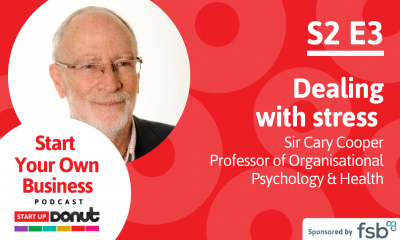 Stress is the leading cause of long-term sickness absence and accounts for approximately 57% of all long-term sickness. According to the Health and Safety Executive, between 2020 and 2021 822,000 UK workers suffered from work-related stress, depression, or anxiety
Workplace stress can be caused by poor people management, long hours, and a lack of work-life balance. In this episode, Sir Cary Cooper shares his knowledge and insights on the causes of stress, how to recognise the signs and simple steps you can take to reduce the impact stress has on you and your employees. 
Show notes
Find links to content related to the topics covered in this episode below.
Stress management
Working hours
Managing people
Employee incentives
About Sir Cary Cooper
Sir Cary Cooper is the 50th Anniversary Professor of Organizational Psychology & Health at the Alliance Manchester Business School at the University of Manchester. Sir Cary is also President of the Institute of Welfare and Chair of the National Forum for Health and Wellbeing at Work. He's co-founder of the Robertson Cooper mental health, resilience and wellbeing consultancy, and has been described as the UK media's first-choice expert for comment on workplace issues.
About our sponsor
Thanks to the Federation of Small Businesses (FSB) for sponsoring the Start Your Own Business podcast.
If you've got a brilliant business idea or you're on your way to start-up success, FSB is here to help you every step of the way. As the leading voice of 5.5 million small business owners and the self-employed, they're helping entrepreneurs like you to achieve your ambitions.
Business life can be tough, but with FSB by your side, you won't have to go it alone. From market-leading business services like 24/7 legal advice and financial expertise, to local networking and a powerful voice heard in governments across the UK, you'll always have support by your side. With FSB's updates on the latest guidance relating to important issues like trade, digital skills, late payments, and sustainability, you'll stay one step ahead.
Find out more about how FSB can support you to start, run and grow your business at fsb.org.uk/join.
What next?
To make sure you don't miss an episode:
To get tips, support, and inspiration from other small business owners:
Join our thriving Facebook group the Donut Small Business Collective