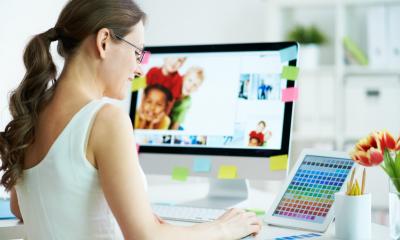 Having a strong, engaging brand will set your new business apart and help you attract and retain customers. Branding is just as important to small firms and start-ups as it is to large, well-established businesses. Remember - everything you do in business affects perceptions of your brand.
What is a brand?
A brand is so much more than a business name, logo, typeface or choice of colours (although these are all important). Think of branding as the experience customers and others have when they engage with your business, and the perception they're left with.
In most sectors, in reality, there's little difference between competing products and services. Branding enables customers to differentiate when making their buying decisions. Your brand is your promise to customers. It's what you stand for - why people should buy from you and not one of your competitors.
That's why it needs to be distinct. Branding also offers you the means to align everything you do, so you can maximise your success.
A strong personal brand can be the difference between having to go and find work and work finding you.
Learn how to position yourself as an expert in your field, build your network and watch the sales leads come in with this online course.
Why are brands successful?
Think about well-liked brands. What do they stand for and what's their promise? Successful brands connect with customers on an emotional level.
Look online to identify businesses with successful brand identities, and think about why they appeal. How does their choice of colours, imagery, typeface and so on evoke their values?
Now consider businesses with poor brands. Where does their branding fall short? Learn lessons from successful brands, and avoid replicating the mistakes of others.
Next, think about your business. What are your core values? What promises do you make to customers? What is your unique selling proposition? What's your place in the market and which customers are you targeting? What are your key messages? How can your brand values be communicated visually?
Remember, your business name has important brand implications too, so choose carefully. Scribble down your thoughts. Keep things simple - successful brands can be summarised in a few words.
Creating a brand identity
Avoid blatantly ripping off other brands. Apart from making you look foolish, customers will think you lack your own identity and ideas (and there are 'passing off' laws too).
Your brand identity should be authentic for your business, but it need not be any less professional or engaging. Customers respond to original, independent brands - small businesses with their own personality and an engaging story to tell.
Obviously you should keep an eye on your start up costs, but paying a graphic designer or affordable branding specialist to create your brand identity can be a shrewd investment. Suggest some examples of branding that you like, but remain open to their ideas.
To save money, you could do it yourself - but if you lack an eye for design you could regret it. Poor launch branding could put off potential customers forever.
Test your branding before launch; ask potential customers for feedback and make changes where necessary.
Your brand identity should ring true with your business and its values. Consider how it will look in every environment in which it will be used. Keep things simple. Less is more, so limit your colours and typeface choices.
Apply your brand consistently
Your brand should be applied consistently - from customer service standards, social media posts and staff appearance to your signage, website and stationery.
Your customer experience should mirror your brand promises. For example, there's no point having reliability as a core brand value if you don't answer customer enquiries promptly.
Never compromise - live your brand values every day and safeguard your brand identity. Customers must be able to quickly distinguish your business and understand what it stands for.
Finally, if you have employees, make sure they also realise the importance of embodying your brand values (provide training where necessary). Consistency underpins all successful brands.