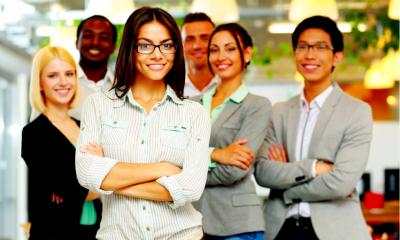 Charlton Morris started in September 2013, specialising in the placement of mid-senior professionals in the life science, medical device and energy sectors
As is typical in the recruitment sector, the company employs a lot of graduates. However, it's an industry renowned for a high level of staff turnover. Keen to continue their rapid growth, they have taken steps to ensure they retain their best staff.
Andy Shatwell, managing director of Charlton Morris, explains how they have made sure the company is a great place to work.

"So far, we've been lucky enough not to experience the levels of employee attrition that we know similar businesses have, and now we want to keep moving forward to capitalise on that success. We know how good we've got it, so we decided to take preventative action to stop us losing the people that have helped us get to where we are today.
Pre-empting problems
"When we started in 2013, we had nine consultants. Today eight of those are still with us, and they're all now directors or managers. They have never shown any signs of slowing down and enthusiasm remains high. They are also a great help with integrating new people into the business. These people are the foundations that Charlton Morris was built upon, and we wanted to do some checks to make sure those foundations were solid.
"That's what we've tried to do. Our plan has been to pre-empt the issues that we know can come up, and take preventative measures to ensure our staff feel that Charlton Morris is, and continues to be, a great place to work.
What have we introduced?
"We no longer track holidays for consultants who have been with the business for more than two years. We also offer extended lunch breaks twice a week - which allows staff to take advantage of the subsidised gym membership we offer all staff. We have also reduced overall working hours.
"Another key improvement we have made is to the working environment. We have doubled our office space and given it a stylish, new makeover. Staff can now benefit from a large, casual breakout area with table tennis and state of the art conferencing facilities.
"We hope that, by rewarding those who have been with the company for more than two years, they will want to stay with us and watch us continue our growth. We hope that our new recruits will be thrilled too, but will also look at the two-year mark as their first, but not last, big milestone in the business.
"Longevity and sustainability are other issues that we've tried to tackle with these new measures. Even if we manage to retain our current members of staff, we want to make sure our new starters are joining for the right reasons.
"We want people who 'want' to work for us. Our original nine members of staff has now grown to over 40 across two offices in Leeds and Copenhagen, and we want to attract people who are interested in seeing that level of growth again, and who are in it for the long haul.
What didn't we change?
"We made a lot of changes, but we didn't overhaul everything. Our commission structure is still the same. We still base our approach on KPIs, and we still set incredibly high standards for our staff. That's not changing, because it's what works for us. The people we hire are still massively motivated by the commission first and foremost. We just want them to also be thinking of their future with us too.
"There's still a lot of pressure, and even though we have reduced the working day, people will still probably work more hours than they would in any other graduate job. There's still no hiding the fact that this job is not for everyone, and that's fine!
"It's too early to say for certain what effect the new measures have had, but early indicators are positive. Since we've introduced our new values and have spread the word, everyone I've spoken to has said 'wow, can I have a job?'
"Whilst they're (mostly) joking, that's the impression we want to give moving forward. Instead of hearing the word 'recruitment' and seeing people wince or roll their eyes, we want them to see what we're doing, and want to get involved."
Charlton Morris specialise in the placement of mid-senior professionals in the Life Science, Medical Device and Energy sectors. For more information, visit www.charltonmorris.com