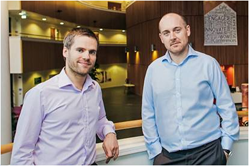 Lawyer-turned-entrepreneur Tom Hiskey (left) founded award-winning legal technology startup 'The Law Wizard' in 2011 with business partner Rob Blake (right). Here Tom explains how their niche business idea was born and how they were able to rapidly grow the business and achieve a trade sale within three years
"The Law Wizard was a rare thing - a technology startup in the largely traditional legal sector. We offered an online system to law firms and other legal specialists to help them capture and keep more of the 'DIY' legal market.
"This is the huge - and growing - segment of consumers who cannot afford or are unwilling to pay for traditional legal services. They are looking for fixed fees, choice and a combination of 'DIY' and expert legal support. Our technology gave law firms the capability to offer all these things and therefore attract more clients.
"We specialised in probate, which is the stressful, yet vital and traditionally very expensive legal process that follows a bereavement. Our early-adopter clients ranged from one-man probate specialists through regional law firms to national high-volume PLCs.
Wizard idea
"When I was a practicing probate solicitor I noticed an increasing number of clients asking for fixed fees and a 'half-way house' between 'DIY' and our expensive full service. There seemed to be a gap in the market and the potential for technology to help provide a solution. This was the inspiration for the company.
"I took the plunge and left my job - it was a 'now or never' moment. But I couldn't have done anything without [co-founder] Rob Blake. He's a technical genius with an entrepreneurial zeal and between us we have a great mix of skills. Luckily, Rob, like me, had the guts to give up his job.
Market research
"Before launching the business, we carried out market research. However, we found that it was only possible to get a really good feel for how good or bad our product was when we had something to show people. For that reason, it's important to take small, quick steps, make rapid iterations and get a product to market quickly. This will sound familiar to anyone who has heard of the 'lean start-up' model.
"Client feedback is invaluable. It is important to continue asking questions and learning.
"Importantly, we avoided old-fashioned preconceptions of what a legal service 'should be like' and focussed on what consumers and law firms demanded.
Local support
"Setting up the business was a gradual, step-by-step journey. Early on we took advantage of the fabulous Springboard programme in York, with EU-subsidised office space for start-ups. This is just one of many examples of vital support we received from various people and organisations locally.
"I would highly recommend getting out there, meeting people and finding out about local initiatives. Help and support can come from many sources, often unexpected, and you won't find it by being insular.
Market response
"We were delighted with the response we received from the professional legal market. We quickly had a core group of early adopters. It was hard to promote a new and unique product as an unknown start-up, but gradually more and more law firms were responding to our key message that we could help them to attract more clients.
"We built the UK's most powerful online probate system and rapidly grew the business from incubator stage right the way through to the sale of the business in June 2014."
Looking back on the years since they started the company, Tom's advice for anyone considering starting a business is simple: "Go for it!"
"The journey is a roller-coaster," he adds, "with awesome highs and terrible lows - it's nothing like full time employment. You'll learn new skills, push yourself in new ways and jump in at the deep-end on an almost daily basis. And if everything goes wrong, you will look back and be proud that at least you had the guts to try, and be a far richer person for the experience."
Tom's three key pieces of advice
"Be honest with yourself about your business idea and research it thoroughly. Don't make big assumptions before you've market-tested them. That means taking little steps, often, and getting out there as soon as possible."
"Don't think the adage 'it will take twice as long and cost twice as much' won't apply to your new business!"
"Just do it! Starting and running your own business will probably be the most incredible and rewarding experience of your life."