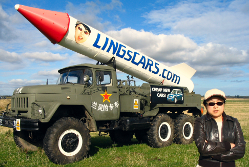 If she ever tires of running her hugely successful Gateshead-based vehicle rental business LINGsCARS, Ling Valentine could probably earn a fortune by teaching others how to promote their businesses. Mark Williams fans the flames some more
Ling Valentine famously rejected investment from two Dragons in an episode of Dragons' Den in back in 2007. She has appeared in publications ranging from adult comic Viz to broadsheets such as The Daily Telegraph. She has even plastered her company's logo on the side of a Chinese military nuclear missile launcher parked on the A1.
Thriving vehicle rental business-owner Ling Valentine could certainly never be accused of being shy when it comes to publicity. But that's partly why she's become so successful.
Established in 2000, each month LINGsCARS supplies hundreds of new contract and lease hire cars and vans from its Gateshead premises. The business turned over more than £85 million of new cars in 2016.
Made in China
"I was born in Leshan, south of Chengdu in Sichuan in 1973. I have one sister - Shan - she's ten years older than me. My father was a chemical warfare soldier in the People's Liberation Army, before he became a local government environmental department worker. He's retired now. Mum still is a famous dental professor."
Ling enjoyed English at school and was taught by an American teacher. She was good at maths, but had no career aspirations. She did a BSc at Jinan University in Guangzhou in applied chemistry ("I was punished at 'uni' because I wouldn't do the morning PE regime"), and in the holidays worked part time for the Sichuan Environmental Agency, testing local rivers for radioactivity and pollution.
"I moved to Finland and tried to do an MSc in wood chemistry, because it was free, but the course was in Finnish, so I failed," she admits. While studying, she worked in a Chinese takeaway. She also met her soon-to-be husband, Jon. "He's from Yorkshire. We met online and married soon after in Finland in 1997. Jon worked in car sales - that's how I got into it."
Adopted Geordie
Valentine eventually moved to the UK and gained an MSc in Environmental Quality from Bournemouth University. Soon afterwards, she found herself working for an import company in North Finchley, but unable to buy a house in London, the couple headed north.
"We moved to Gateshead in 2000. I like England for the quality of life. There's no pollution; it's peaceful and life is orderly. But I miss China, of course… my family, friends, the culture, the food - the excitement. I go back at least once a year."
Jon had been running contract vehicle hire companies for years in London. He set another one up in Gateshead, but soon handed over the reins to Ling. "I had ideas about how marketing of the business and customer service could be improved. Why has the business done so well since I took over? Because I'm good!"
Dragons' Den
Ling says it was never her plan to accept investment on Dragons' Den. "The whole point was to get offers I could turn down, which is why I asked for the minimum amount of investment. Appearing on the show really helped my business. Ten minutes on national primetime TV on a popular programme - with all the associated publicity that came afterwards? That would have cost me a fortune otherwise."
Love it or hate it, you certainly can't ignore the LINGsCARS website, which has been described as the ugliest website ever, yet it attracts thousands of unique visitors every month and delivers a huge volume of sales. "It's not just a question of letting people know about vehicles and prices, you've got to entertain them. That's why there's so much information and personality on my site," says Ling.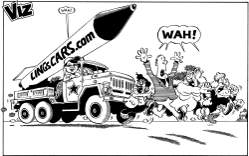 Ling has always thought outside the box when it comes to marketing - take her appearance in Viz, for example.
"They've had loads of cars from me - they're nutters - worse than me. They asked me to replace the Rupali restaurant's Abdul Latif as their 'Ethnic Business Ambassador' after he died, I said yes. I first appeared in Billy the Fish." And the Chinese military truck? "My stunts generate a lot of publicity, but that was far better than expected - especially after John Prescott had a go at me about it. I do it because it's fun. I do it because it's cheaper than advertising. But most of all - I do it because it works. It's partly what has enabled me to take on and beat larger competitors."
Anglo-Sino relations
To relax, Ling spends much of her time online communicating with friends and family in China. She enjoys eating out ("a lot") and travelling. What of the future? "I want to continue the success of the car rental business. I've become very active on social media in recent years. My plan is to double profit every year. I have more business ideas in mind."
Ling says she's rarely been a victim of racism in the UK and it doesn't affect her anyway. "I'm proud to be Chinese - hopefully I'm doing my bit for Anglo-Sino relations," she smiles. She freely describes herself as hot headed. "I get angry easily and then I shout - not at customers, but sometimes I have to hold myself back if someone is rude on the phone. I only swear in English, because, as my mum says - nice Chinese girls don't swear."
Ling's three key lessons
"Don't be put off by negative people. Just get on and do it"
"Aim to make a profit from day one. If you're not making a profit, you're not running a successful business. To remain profitable, minimise your costs"
"Don't treat your customers like they're idiots. Give them better value for money and better service than they can get from your competitors"