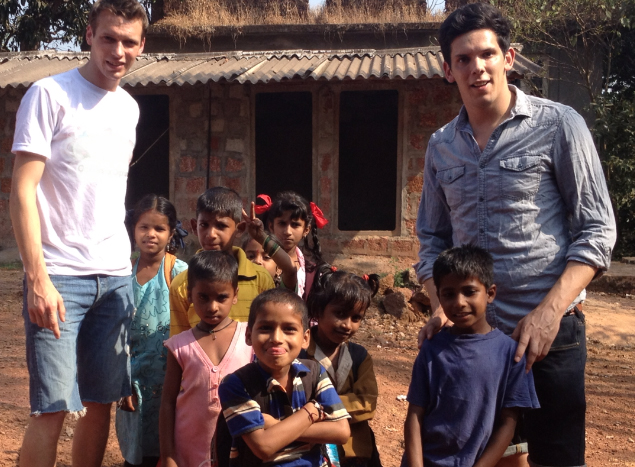 With younger brother Paul (left), Rob Forkan (right) set up and now runs south London-based Gandys, which uses some of its profits to help orphans in India – just one reason why this fast-growing flip-flop brand continues to win fans around the world
"My parents, Kevin and Sandra Forkan, were compassionate, fun loving and generous people who enjoyed travelling and wanted us to experience other cultures.
"In 2001, after selling their house in Croydon, they took us out of school and we headed for India, the place they loved most. The plan was to volunteer for humanitarian projects. Despite the extreme hardship we witnessed we all loved India and its people.
Surviving the tsunami
"In 2004 we flew south to spend Christmas in Sri Lanka. We stayed at the Neptune Hotel in Weligama, a small fishing village. After a fantastic Christmas Day on the beach, something happened on Boxing Day that would change our lives forever.
"Shortly after 8.30am, while we were still in our beds, the tsunami hit. A 20-foot wave devastated our hotel. My younger brother Paul and I managed to survive by scrambling up onto the hotel roof. Tragically, my parents were swept away after getting my youngest brother Matty and sister Rosie to safety. I never saw them alive again. Dad was 54 years old and mum just 40.
"Although we were battered, hungry, exhausted, barefoot and in shock, we managed to hitch lifts, traveling about 120 miles overland to the airport in Colombo.
Business idea
"I returned to the UK and in the years that followed I combined travelling with various jobs. I worked as a lifeguard; later in customer service and then in advertising account management. Paul also continued to travel and ended up in Australia, but we both retained a desire to help others, something we'd learned from our parents. Visiting India and other countries really does underline the fact that many people are much worse off than you are.
"After a heavy night at a music festival I woke up with a dreadful hangover. I remember saying I had a 'mouth like Gandhi's flip-flop'… That was it – my Eureka moment! Flip-flops. Having travelled around the world wearing them for years it was a product I knew well. I'd had other business ideas, but none I'd believed in as strongly.
"And as well as a business idea, I had the basis for a brand name. We changed the spelling so as not to cause any offence. I rang Paul and he loved the idea. He returned to the UK and in 2011 we launched the business – Gandys – from my flat in Brixton.
Starting up
"People love the name. We designed the branding and our flip-flops ourselves, had prototype samples made and conducted basic market research in London and Brighton. We used feedback to make improvements.
"Our business idea is simple. We haven't tried to 'reinvent the wheel' – just to create a great product and a brand with a difference, one that donates some of its profits to helping desperately underprivileged children.
"We haven't really outsourced anything. When starting up, some people might tell you that you shouldn't try to tackle this or that because you lack experience, but often you find that much of it is just common sense. We've made mistakes, sure, but you learn from your experiences and move forward.
Huge market
"When we told people we were launching a new flip-flop brand a few of them didn't think it was wise, but flip-flops have become hugely popular in the UK and, in any case, the plan was always to sell internationally. Global sales of flip-flops are huge – more than 220m pairs of Havaianas are sold each year. We're new to the market, but there's more than enough room for us.
"At the moment we're constantly being contacted by people all over the world who want to stock or buy our flip-flops – it's relentless. Soon we hope our products will be available in 30 countries. Many consumers are discerning. They want to buy from brands that have a social conscience, but the product still has to be good.
"The reaction to our flip-flops has been a bit crazy. We've had a lot of media attention and that's helped boost sales. You can buy our flip-flops direct from our website, as well as leading stockists such as Selfridges, House of Fraser, Sole Trader, Top Man, Schuh, Office, USC, FootAsylum and Asos. 
"People ask us what we're going to do once the first Gandys orphanage is built and we tell them we're going to work harder so we can sell more flip-flops and build another one, then another one, then another one. We'll never stop."
Rob's three key pieces of advice
"Your products must be appealing. Our initial prototypes weren't as good as the flip-flops we now sell. Early on we acted on market research feedback to create a more attractive product"
"Go and speak to people who actually run their own business.  We picked up a lot of valuable advice by speaking to others. "
"Even if you have a great product, interesting story and social enterprise dimension to what you're doing, you've must be able to sell. If you can't sell, employ someone who can, otherwise your business won't succeed."
More on this topic: