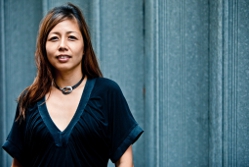 Some call her the UK's first lady of technology. She's also CEO and co-founder of Moonfruit, the trading name of DIY website construction tool SiteMaker. Many millions of sites have been created using Moonfruit's software since it launched in 2000. But as Wendy Tan-White explains to Mark Williams, sometimes you've got to fail to succeed
Perhaps it was inevitable that Wendy Tan-White would end up working in IT. Born in Salford in 1970, her family moved to Cumbernauld in Scotland with her dad's job when she was two. "Few people worked with computers then, dad was ahead of his time. We moved to Reading when I was nine, dad got a job with Racal, which became Vodafone. Mum did a degree and ended up working in IT, too."
At grammar school, the teachers filled pupils with self-belief, Wendy recalls. After A-levels, she did a degree in computer science at Imperial College in London. "I went from an all-girl school to a course where only seven out of 120 students were female. I was living in halls in South Kensington, it was all very new and exciting. At Imperial we were using state-of-the-art equipment - and the internet - it was only 1989."
Corporate thinking
Ford sponsored Wendy's studies and she gained holiday-time work experience at the company's Dagenham plant. "I asked friends about starting a business, but the thinking was very much to gain experience first. We were heavily 'milk-rounded', so I ended up becoming a tax analyst for Arthur Andersen, then the world's biggest accountancy firm.
"It felt like I'd sold my soul. I went from believing I could do anything to photocopying tax returns. Thankfully, I did learn about the financial side of running a business." Wendy then joined AIT, a software consultancy specialising in financial service companies. "My clients included the Prudential. Following deregulation, they were launching Egg (now part of Yorkshire Building Society) and launch director Richard Duvall headhunted me. I was 27 years old - relatively young."
She still longed to start her own business. "Eirik Pettersen was a friend from university. He was working for an IT consultancy. I'd already done some early work on what was to become Moonfruit and Eirik said he'd join me if I could attract enough funding. This was 1998. Richard [Duvall] said if I stayed one more year at Egg, he'd help me. Fortunately, he allowed me to work part time, which gave me income and enough free time to develop my own business. Seed investment came from Richard, Eirik, myself and friends and family."
Fast-growth start up
The idea behind Moonfruit was to remove barriers to technology and enable people to share their passions online.
"We wanted to enable more people to build their own website quickly, easily and cheaply. I worked with a small web-development agency in Soho I'd used for Egg, which is where I met my husband Joe, now Moonfruit COO/CFO. We raised £400k from Bain. They also helped us package our prototype and business plan for larger investors. We then raised £6 million from LVMH. People could see we had an idea that could potentially be rolled out all over the world."
Moonfruit launched in January 2000, offering both Free and Premium versions of its website building software. Customers could take a free trial and then choose which service was most suitable for them.
""By the end of the year we had 100,000-plus users and 60 employees, but we grew too quickly," Wendy admits. "When the NASDAQ crashed at the end of 2000 and the dot-com bubble burst, LVMH sold the business back to us. We scaled back to just Eirik and myself - it was a really tough time. I had to let go a lot of people I was close to, including my future husband and mother-in-law."
The pair bootstrapped their way through and by 2004 they had ten employees and were again generating profit. "Customer advocacy has always been our main source of growth," explains Wendy. "Retention rates and loyalty are extremely high and there is an active community around Moonfruit and our software. Most new customers come from recommendations from existing users."
That same year, Wendy helped set up www.zopa.com, Europe's first peer-to-peer lending website. "I was married by that time and had my first child (she has two children, Josh, 6, and Bella, 3), so my husband took over running Moonfruit with Eirik. Joe raised investment totalling €14m and bought [French company] Gandi and the two businesses merged. By 2008, the value of the business had tripled," Wendy recalls.
Textiles degree
During her time away from Moonfruit, Wendy did a textile design degree at Central St Martins, before becoming marketing director of Gandi in 2008. "Things had changed with the rise of social media sites such as Facebook, so some radical improvements were needed for Moonfruit."
In September 2010, Moonfruit accepted $2.25m from US investment bank Stephens, capital that was used to take the business forward. Further investment followed in March 2011 from Dave McClure of Silicon Valley-based group 500 Startups.
In May 2012, Moonfruit was acquired by Hibu (formerly Yell.com) to assist in its transformation into a digital services provider but Wendy remained as CEO of Moonfruit. "Sales are reaching new highs and we're really in a great position. SMBs [small and medium-sized businesses] are key to our thinking - we want to aid their birth and development, they're crucial to the economic recovery here, in the US and elsewhere.
Wendy shakes her head when asked whether she plans to retire any time soon. "I'd like to spend more time with my family, sure, but do nothing? No way. I have to be involved in some type of project. I love investing in other businesses and start ups and acting as a mentor so others can benefit from my knowledge and experience," she smiles.
Wendy's top tips
"Don't be over-protective with your ideas - share them with people you trust. Ask for their opinions, you'll get a better perspective on your ideas"
"Try to build a good team around you. You need to trust people. Everyone must know what is expected of them and the communication must be open and honest"
"Don't fear change. You've got to stay flexible and be prepared to adapt your business if circumstances require it. Things change"
You might also enjoy: