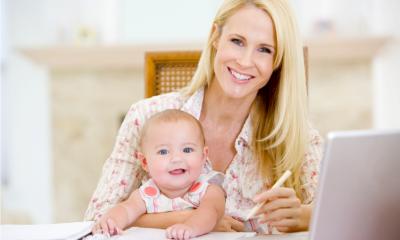 Growing numbers of mums are choosing to become their own boss and look after their children at the same time. Over 1.6 million woman have taken up self employment in the UK and their numbers are rising fast. The number of self-employed women grew by over 172,000 during the last three years according to the Office for National Statistics (May 2018). What's behind the boom in start-up mums? We ask two enterprise experts

"Our research indicates that the number of self-employed mums has increased dramatically." Laura Rigney, founder of MumpreneurUK.
"The partners of some stay-at-home mums struggled to find full-time employment in the past. Through sheer necessity they've turned what was just an idea or a hobby into an income-generating business.
"Most women start their business when they are on maternity leave - many spot a gap in the market related to children or babies. They decide they want the flexibility of being their own boss and don't want to leave their kids and go back to work. And with the cost of childcare now so high, it often just doesn't pay mums to go back to their job and fund one or more nursery places.
"Women still face barriers to starting up. The biggest is people not taking them seriously as business women - particularly family and friends. Everybody sees their business as just a hobby.
"Access to finance is less of a problem, as a lot of these women tend to start a business which doesn't need a lot of funding - most do it with as little as £500. Mums use savings that they've built up or borrow from their family. There are also quite a few angel investors who are keen to invest in mum-owned businesses, as mums are seen as a lower risk."

"High-profile female entrepreneurs have helped give other women the confidence that they can do it too." George Derbyshire, ex-chief executive of the National Enterprise Network
"Traditional barriers to women starting businesses don't seem to be here anymore - most people are bending over backwards to support women entrepreneurs.
"There are a lot of successful female entrepreneurs ranging from the likes of Green & Black's founder Jo Fairley, to small home-based businesses run by women. A lot of women have realised that running a business from home is manageable. Add to that the developments in internet technology making it easier for people to work from home and it explains the upsurge."
---
How we did it: two award-winning mums tell all

Sam Willoughby, founder of online business What's On 4 Little Ones?
"I didn't return to work after having my baby as my employer didn't offer me any flexibility with my role. I was at a very low point where I felt that my years of career building had been for nothing, and my experience was of no value. But what this actually gave me was an opportunity to make my own flexible career.
"I had the idea for my business when I was trying to find local activities to go to with my baby. It was near-impossible to find accurate and comprehensive information. I linked this problem with my own experience working as a project manager for a well-known directory company, and What's On 4 Little Ones was born."

Anna-Louise Simpson, founder of herbal tea business Mama Tea
After nine years of trading, and with a string of UK supermarket giants stocking her Mama Tea product, former corporate lawyer Anna-Louise's caffeine-free herbal infusions have attracted wholesalers from around the world.
"Being a stay-at-home mum was the most difficult job I've ever done. Just doing the same thing every day, and playing with things like craft kits, means you do not have much time for yourself. But with the business I have grown, it feels fantastic to be doing something for myself and spend time with the kids. That is probably what drives many of us."