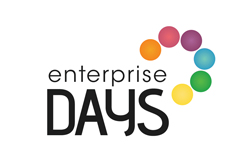 The winner of Business Crayon's Enterprise Now competition was announced at last week's Business Startup Show in London. Enterprise Now , which was supported by Google, Experion and Simply Business, celebrated owners of small enterprises and would-be entrepreneurs around the UK, with a total prize fund of £27,500. Business Crayon were offering £4,000 of start-up kit, including PR services, accounting software and logo design, to the winning enterprise. Entrants had to pitch their business ideas in no more than 200 words, with the shortlisted than being put to a public vote via the Business Crayon website.
The winner was Enterprise Days; an initiative run by former BBC Young Apprentice contestant, Emma Walker. The 18 year-old, who graduated from the Peter Jones Enterprise Academy in Manchester this year with a Distinction, won the public vote with her business idea which aims "to bridge the gap between enterprise and entrepreneurship". Enterprise Days provide one-day business challenges to primary and secondary schools to help young people gain entrepreneurial skills.

Walker was somewhat assisted in her quest for votes by business magnate Lord Sugar, who kindly retweeted the former Young Apprentice candidate's plea for votes. But that's not to detract from the hard work of this determined and ambitious young woman. Getting a taste for business aged 12 after selling sweets in her school playground, Walker has proved that she is a driven individual who wants to ensure that the next generation are business-focused, and equipped with the right skills to follow in her footsteps and set up their own enterprise. At a time when youth unemployment is at its highest rate for almost twenty years, Emma's story is one to capture the imagination and lift the spirits of young people nationwide.
All of the team at Start Up Donut would like to congratulate Emma on winning the Business Crayon competition – we look forward to see what the future will hold for Enterprise Days.