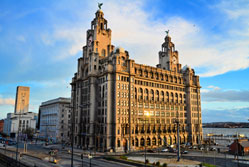 More than 800 students will be in Liverpool this weekend to attend the Student Enterprise Conference 2015, which is hosted by the National Association of College & University Entrepreneurs (NACUE) and supported (for the second year) by Santander.
At the conference, which will take place at Liverpool John Moore's University's Redmonds Building in the city centre, students will be able to meet some of the UK's most innovative entrepreneurs and businesses, including 2014 BBC Apprentice candidate Ella Jade Bitton and Julien Callede, founder and COO of Made.com.
Exciting and successful
NACUE chief executive, Johnny Luk, comments: "We work with thousands of students every year and they increasingly want to create something that leaves a mark. We're giving young people the opportunity to engage with not only experienced entrepreneurs and business experts, but some of the most exciting and successful companies of today."
The conference is now in its sixth year and it has grown to be the biggest of its kind in Europe, say its organisers, "bringing together students and graduates from colleges and universities across the UK for a weekend of inspiration, discovery, networking and practical workshops. Whether they are launching a business, in an entrepreneurial society or just looking to meet like-minded students, this event has something for everyone," they promise.
Supporting student entrepreneurs
Research carried out by YouthSight on behalf of Santander suggests that about 80,000 UK university students run businesses and a quarter of them plans to turn their business into a career when they graduate. Simon Bray, director of Santander Universities UK, says: "It's so important to support and encourage entrepreneurship – especially among young people. Student entrepreneurs are key to the growth and prosperity of our economy and many of them will innovate, define and lead our future."
Banco Santander, through the Santander Universities Division, maintains almost 1,200 collaboration agreements with universities and research centres all over the world. Since 1996, Santander Universities has been the focus of the Bank's social action with an investment of more than €1 billion in various initiatives and university projects. In 2014, the Bank invested €130 million to support higher education.
Santander Universities was introduced in the UK in 2007 and the bank is already collaborating with 77 British Universities and Higher Education Institutions, with agreements focused on promoting international exchange, entrepreneurial activities and the mobility of students and researchers within the network.
More on this topic: