January 10, 2014 - Anonymous
Financial help for flood-affected businesses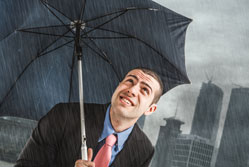 NatWest and RBS have launched a £250 million UK Storm Business Fund to assist businesses struggling to cope with the aftermath of the recent storms.
The fund will provide short-term, interest free loans of up to £250,000 to help affected businesses replace stock, repair damage and resume trading.
Loans will be provided for three months to any viable business – not just existing NatWest and RBS customers. The loans are being supported by a range of other emergency measures including temporary overdraft increases, repayment holidays on existing loans and a waiving of early withdrawal fees and termination costs for businesses wishing to access deposits.
Chris Sullivan, CEO Corporate Bank for NatWest and RBS, said: "We know cashflow is critical for businesses. Many firms will have taken a real hit to their livelihoods as a result of this prolonged period of adverse weather. The loss of trade or damage to stock from such a storm can mean businesses find themselves in financial trouble.
"We're making additional support available because we know how important it is to the local economy and communities to get these businesses operational again."
Businesses affected by the recent bad weather should contact their business relationship manager or call the UK Storms Helpline on 0800 529 8544.
Related resources: