November 22, 2013 - Rachel Miller
Osborne must act on business rates, says FSB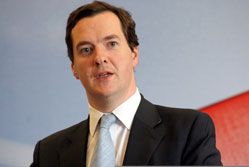 The Federation of Small Businesses (FSB) is calling on George Osborne to tackle the rising cost of business rates in his forthcoming Autumn Statement. The call comes as rates bills are set to increase by 3.2% in 2014.
FSB research shows that business rates are a significant cost for small firms and they are unrelated to their economic activity, with some paying more in business rates than in rent.
At the moment, more than 250,000 firms rely on the 100% rate relief to survive, but relief at this rate is due to expire next year. The impact of this, says the FSB, would be equivalent to introducing a new tax on 293,000 small and micro businesses.
With rates bills set to increase by 3.2% in 2014 – as set by September's RPI inflation figure – the FSB wants to see the temporary doubling of small business rates relief made permanent, and a freeze in rates for firms in properties below £18,000.
John Allan, FSB national chairman, said: "Energy and business rates are an increasing cost burden for firms up and down the country and are two areas we have highlighted to the Chancellor as needing particular attention. Clear proposals and timetables for reforms in both of these areas will lock in the confidence we have begun to see building among small firms."
Meanwhile, research by the Forum of Private Business (FPB) has found that 97% of its members believe that property taxation is too high. The FPB is also calling for a freeze on business rates, an extension of Small Business Rate Relief until the end of the current parliament and an independent study to look at the current system of business rates.
Alexander Jackman, FPB head of policy, said: "An overwhelming number of businesses feel property taxation remains too high. Now is the time for the Treasury to recognise that pressing issue and give businesses a break from over inflationary increases in their rates."
Image credit: Altogetherfool on Flickr
Related resources: