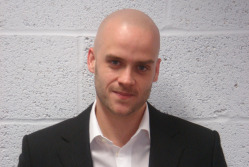 Henry Buckley has started ten businesses in the past 10 years and currently runs three - including his latest venture, a delivery service that employs joggers. Mark Williams finds out what inspires him and what plans he has in store for the future
"I was 12 when I decided I wanted to become an entrepreneur," recalls Henry Buckley. "But even then I knew it was all about having a good idea. Success rests on coming up with something new."
The latest new thing from the 28-year-old serial entrepreneur is JogPost, a leaflet and magazine delivery company operating in Greater London that uses runners to go from door to door.
"We're the only company that employs runners, which means we offer a quicker and more cost-effective service," Henry explains. "The other big selling point is that we offer a totally environmentally-friendly solution. As a business, we've made a commitment to offset at least twice as much carbon as we use."
Serial entrepreneur
Henry says new business ideas come to him continually. "Already, I run three companies and I'm developing another. My business partner, JJ, has been with me since we were 17. We must have started ten businesses together since then - everything from promoting club nights to our own clothing range and more recently a network marketing company."
John 'JJ' Harding was another early starter, having been a Portobello Market stall-holder at just 14 years old. Both he and Henry feel that running a business is about more than just making money.
"With JogPost, JJ and I wanted to come up with a business that could also help tackle problems in the community," Henry elaborates. "We wanted to give jobs to the long-term unemployed and those who've recently arrived in the UK, many of whom are being paid slave wages by unscrupulous employers. Our customers like our business concept and our ethical approach."
Socially minded
Henry is proud of the fact that JogPost pays its delivery people significantly more than the National Minimum Wage, saying it attracts good people and encourages them to take pride in their work. "They're more likely to provide a great service. Happy staff are productive staff, plus people are more likely to stay with you if you treat them well."
His inspiration for his socially responsible business outlook perhaps comes from his father, an American investment banker who used his wealth to set up a charitable trust fund. "It helps to pay for houses for homeless people, and builds schools and medical centres in the developing world," Henry says. "I suppose that's what I aspire to. I want to help people who are less fortunate. I've always been compassionate - I'm not really materialistic. I'm not in business to make a vast personal fortune."
Self assessment
Although he has been employed in various advertising, sales and marketing roles, by his own admission Henry struggled to last more than six months. "I've always been fired in the end," he laughs. "Seriously, some people just aren't cut out to work for others and I'm one of them. To quote Alan Sugar - it would take wild horses to drag me back to work for someone else again.
"Working for other people just doesn't give me the same fulfilment - it's too restricting. When I've worked for someone else, I've been bored and couldn't wait for the weekend. Now, when I get time off at the weekend, I can't wait to get back to work. I'm so happy.
"I've spent thousands of pounds creating this company, I'm working long hours more or less seven days a week, but it makes my life much more fun and interesting."
Looking ahead
So what ambitions does the young entrepreneur have for JogPost? "It's an incredibly scalable business. We've got plans to roll out in the South East, possibly the North West, maybe even in the USA - I have US citizenship. It's a great idea and the opportunity exists to turn it into a successful franchise."
And personal goals? "I'd like to have enough money to help people in the developing world. I've done quite a bit of travelling and I've seen some desperate poverty, but I've also seen how relatively small amounts of money can make a huge difference. Once I'm rich I want to dedicate my life to changing the lives of people less fortunate than me."
Henry says he doesn't really get time to relax, although he recognises this is probably not a good thing. "Experience has told me that dedication and effective time-management are key to success when you're running your own business. You've got to put the hours in - there are no short cuts," he concludes.
Since this case study was first written, JogPost has expanded across the South East. It now also offers leaflet design and print services so that JogPost can organise marketing campaigns from design through to delivery. They also offer bespoke business-to-business marketing as well as hand-to-leaflet marketing services.
Browse more Running a business topics