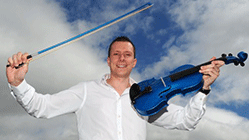 Although Adam Ewart already runs two successful small businesses, the Northern Ireland-based entrepreneur is busy planning a third. The young businessman talks about what motivates him and what's next on his agenda
Adam Ewart was always going to be an entrepreneur. Even at primary school the signs were there. "I used to organise garage sales to raise money for Blue Peter appeals. I was good at selling," he laughs. "I also recall a wee classmate started making friendship bracelets and I offered to help her sell them to other kids. I'm not sure why I was like that - it doesn't run in the family."
As a child, Adam frequently used to write to game companies with ideas for new board games. "I've always enjoyed coming up with ideas, but it can be a curse. Most places I go - a restaurant, shop, airport, whatever - my head's busy thinking of ways to improve things. This isn't always a good thing - when you're with your girlfriend, for example. Last year I wrote to a couple of charities with ideas after I'd visited their shops."
Early entrepreneurial promise
Adam set up his first venture at 16. "I was ahead of the game," he smiles, "I was buying old mobile phones and selling them to recyclers. I wasn't making vast amounts but it was a profitable business model. Loads of businesses are doing it now. Perhaps I should have stuck at it…"
Back then, he also came up with the idea of a website on which job hunters could upload their CVs. The success of numerous recruitment websites pays testimony to the idea's validity, but Adam admits he didn't have the business or internet knowledge to make it work.
At secondary school, he considered a career in law, but was never totally committed. "I ended up reading ancient history at uni, which I enjoyed, but I knew I wanted to run my own business.
Three thinker
In 2005, Adam set up online musical instrument retailer Karacha from his home town of Bangor, Northern Ireland. "We offer school kids good quality-instruments at affordable prices. It's not a terribly original idea, but I identified a gap in the market. The business is doing well and continues to evolve."
A year later he set up Sendmybag, following an unpleasant journey to an airport lugging suitcases only to be met with excess baggage charges on arrival. "For an affordble, fixed fee we collect luggage and deliver it to wherever it needs to be. It's an excellent business, the result of trying to solve a problem - the basis for many good businesses."
He would also like to set up his own charity. "Many charities could be run much better. Some day, I'd like to use my money, creativity and know-how to do good things in the community."
Key motivation
How much is the young businessman driven by money? "I'd be earning much more now if I had become a lawyer," he smiles. "Obviously, I want to make money, but it's not everything. I like the freedom and satisfaction you get from working for yourself… deciding your own destiny. I couldn't work for someone else now, however good the money was."
Adam admits he still makes the classic mistake of working within his businesses, rather than on them ("However minor a customer enquiry or complaint, I can't rest until it's sorted out"). He can't recall any low points in business so far, while he bluntly refuses to talk about high points.
"I've only just started. OK, perhaps there aren't many people my age with two successful businesses to their name - certainly where I come from - but I'm excited about the future, not the past.
"Who knows what I'll be doing next year, let alone five or even ten years down the line. I'm forever learning. I might not achieve my ambitions with the businesses I'm running now, but at least when I come up with the idea, I'll have the knowledge and experience to make it into a really successful business," he concludes.
Further reading:
Browse topics: Start up business ideas