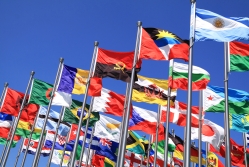 The British Chambers of Commerce (BCC) has published the results of its International Trade Survey for Q1 2014, which seeks to better understand barriers faced by existing and potential UK exporters.
Based on responses from 4,742 businesses, the survey found that while 90% of respondents had ambitions to "grow domestically", only 43% were looking further afield – despite 55% of exporters "reporting a positive impact on their bottom line within just 12 months of expanding into new markets abroad".
More than 75% of current exporters had traded internationally for more than five years, while new exporters (up to two years) only account for 11% of total current exporters. Almost 70% of non-exporters did not believe they had the right product or service for export, while increased funding (25%) and access to overseas agents and distributors (24%) would encourage non-exporting businesses to export for the first time.
Almost half (48%) of respondents described themselves as "reactive" exporters (ie only supplying overseas customers when they receive unsolicited orders), with 22% described as "proactive" exporters (adapting their product or service to specifically target overseas markets).
BCC director general, John Longworth, wants more UK businesses to target overseas customers as a growth strategy. He is calling for increased support for exporters "so the UK can fulfil its true potential as a leading export nation".
He added: "It's understandable that less than half of the businesses we surveyed have ambitions to grow internationally, but it proves that we need to do more as a nation to take the fear out of exporting. I speak to businesses with full order books here in the UK that don't see why they would need to take their goods and services overseas. We need to create an environment that makes it worthwhile for them to export.
"If we in Britain are serious about rebalancing our economy, we must invest even more in supporting and promoting international trade. The UK should be matching the level of resourcing dedicated to export support provided by our major international competitors. Government intervention must be more focused in areas that can really make a difference, such as providing greater access to finance – particularly when a quarter of non-exporters say that increased funding would encourage them to export."
Longworth called for a more radical approach. He explained: "Only a concerted national campaign and sustained investment will get more UK firms to look beyond our shores for growth opportunities. Otherwise, our ability to rebalance the economy will be limited."
Related resources