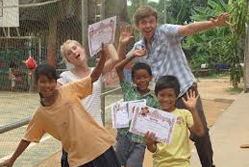 When Aaron Jones (pictured right) took a 10-week sabbatical in 2010 to teach children in North India before starting university, the experience affected him profoundly and inspired him to set up his business, Fikay, which would help support struggling communities
Aaron developed a business plan to source used, non-biodegradable, durable cement and fish feed bags from developing nations and work with local suppliers to turn them into fashionable bags and wallets for students and young people in the UK and elsewhere.
For every Fikay product sold, bricks are donated to local school building programmes, helping to make a huge difference to those communities and bring about real change for the future.
Indian summer
"My sabbatical to India was the first time in my life I'd really held hands with poverty," confesses Jones. "Right there, I knew I had to do something to help disadvantaged communities around the world. I wanted to find a way to provide long-term, sustainable help."
It was during a later trip to Cambodia in 2011 that the business concept presented itself. Aaron saw a market trader selling goods made from recycled cement bags. "I was blown away by the resourceful way the bags were being used," Jones recalls. "So, I spent a month getting to know the seller, and eventually met her supplier."
By 2012 Jones was working with the supplier to make fashion items from recycled bags. He adds: "Our design inspiration comes from the rather normal day-to-day sights and colours we see in the countries we visit. The best part is we're recycling materials that aren't always biodegradable, so it's great for the environment too. Fikay is about your adventure – a brand for successful living without screwing everyone over."
Business name
Jones recruited a friend and their final task was to decide on a name for the company. "While we were in Vietnam a little boy from a local village jumped into a pool and shouted 'Fikay'. He was so happy, against all odds, that we took his word to mean 'hope' and immediately adopted it as our business name."
From there, business objectives were created to; empower local people, find local suppliers, and give back to the community. With one supplier in place, business experts suggested that Fikay speak to Alibaba.com about finding more suppliers. "I became an Alibaba.com member and began to explore the platform." Jones continues: "Within hours I'd found a perfect supplier of cement bags, based in Cambodia, and began chatting to him."
Sourcing the new supplier turned out to be a significant move for Fikay. "Our usual supplier was reaching their capacity limits and we needed an additional product source. The new supplier was able to produce the goods in time to meet the order. If we had not found the additional supplier, Fikay probably wouldn't be here today."
Faith, hope and charity
With added confidence, Jones then set out to expand the business, while retaining its social enterprise roots. "We learned the true value of partnership. We're now using Alibaba.com to meet suppliers throughout South East Asia and in the Congo," explains Jones.
Fikay now sells more than 100 products in 20 styles and many colours.
Giving back to communities through fair trade remains at the heart of Fikay and it works with local charities to support their causes, help families to learn new skills and raise employment levels. With the bricks bought through each Fikay product sale, it is aiming to help build 10 schools in 10 years in South East Asia.
Jones concludes: "I've learnt from my travels that, no matter how bleak a situation looks, as long as there is hope, things can change. Fikay has already helped to improve the lives of many people in poverty, but we've only just begun."
Fikay was named one of Ernst &Young's Future 50 and in March 2013 Aaron Jones won a Shell Live Wire Grand Ideas Award.
More on this topic: