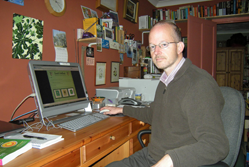 After 20 years working for a large blue chip company, Jeremy Bartlett from Norwich, decided to go it alone and set up his own web design business.
Design Different offers local businesses bespoke websites and design.
Jeremy had worked as a computer programmer and as an IT designer creating internal sites for his previous employers. The idea of running a business using these skills had not occurred to him until he started to build a website for his wife, a local artist.
Finding that he enjoyed the challenge, he soon set about constructing a family history site too. As Jeremy developed his skills he was given the opportunity to take redundancy and decided to set up his own business. Jeremy has since gone on to build websites for ex colleagues, community groups and local churches. As his wife is an artist she is able to assist him in ideas for the look and feel of a site.
"With my background in IT, I am accustomed to working to customers' requirements, on time, within budget and to a high standard of quality", comments Jeremy.
Jeremy made use of the business advice and training at Norwich Enterprise Centre, on Guildhall Hill. He found out about the course because his wife had attended a similar one, two years earlier. Jeremy felt that he knew very little about running his own business, having spent 20 years as an employee but now feels much more confident. Speaking of the NWES business planning course he attended he states 'I thoroughly recommend the course as an opportunity to receive clear and structured advice on producing and implementing a business plan'.
When asked about being self employed Jeremy states:
"Working from home takes some getting used to after working in the office environment, it's different. Networking is important, not only as a source of business but also as a break from your environment. Whilst not the most exciting part of running a business, record keeping is key to running a successful business in order to keep track of income and expenditure, for your own sake and the taxman's!"
Richard Salmon, Jeremy's business advisor at NWES has been impressed:
"Jeremy has a keen eye for detail and this has helped him not only with the smooth running of the business but allowing him to offer clients a service whereby they gain exactly what they want from a website. This will undoubtedly lead to word of mouth recommendation."
Jeremy adds "I work from home and have low overheads, so I can charge less than a large web design company. I provide full support for the sites I build and, as you will always deal directly with me, you will receive a consistent standard of service."
To learn more about Design Different visit www.designdifferent.co.uk or email jeremy@designdifferent.co.uk.
If you are trying to set up in business and need help or support call 0845 60 99 99 1 or visit www.nwes.org.uk.
Jeremy was able to gain free advice and training from NWES as part of the 'Go for it - Enterprising Norwich' programme managed by Norwich City Council. If you are trying to set up in business and need help or support call Norwich Enterprise Centre on 0845 60 99 99 1 or visit www.goforitnorwich.co.uk.
Go For It! Enterprising Norwich is the name for the Norwich Local Enterprise Growth Initiative programme and aims to raise awareness of the support available to help people in Norwich turn their business ideas into a reality.