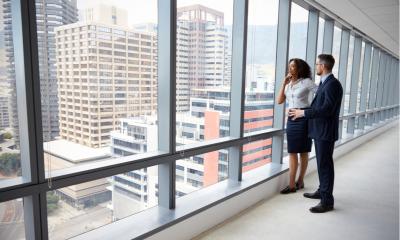 Unless you have the cash available, you will need to take out some kind of finance facility to fund your commercial property purchase. There are different options available when it comes to financing, so this article will outline the most common ones and when they would be most suitable.
Commercial mortgage
Commercial mortgages are probably the most commonly used facility for commercial property purchases.
A commercial mortgage works the same as a residential mortgage in that you will pay a deposit and then make monthly repayments either made up of capital and interest or interest-only. A commercial mortgage is suitable for long-term borrowing as terms range from one year to 30 years.
There are different types of commercial mortgages. These are:
Owner-occupied
This is when you plan to use the mortgaged property or land for your own business/commercial purposes. This could be to purchase the property that your business is already renting, your first business premises, or an additional property to expand your business.
Commercial Buy-to-Let
This is when you plan to rent out the mortgaged property or land to another business.
Residential Buy-to-Let
This is when a commercial mortgage is used to purchase property to rent it out on a residential basis. This is usually used by professional landlords with large property portfolios.
Will I qualify for a commercial mortgage?
If you want to purchase a commercial property to use for your own business (owner-occupied), then your business' trading history will be very important when it comes to your commercial mortgage application.
You will usually need to provide the lender with at least three years' filed accounts plus predicted profit and loss statements for the future. Your business' success rate will govern whether or not you can afford the mortgage repayments and your trading history will play a large part in determining the rates and terms offered.
If you are purchasing a commercial property with the intention of renting it out to another business then you will need to provide a full tenancy schedule. This includes the name of the tenant and the full terms of the lease. When you are renting out a property, the rental income needs to safely cover the mortgage repayments in order to meet the lender's affordability requirements.
How much do commercial mortgages cost?
Interest rates for commercial mortgages are not solely based on the Loan to Value but are determined by a number of different factors.
This includes; how long your business has been trading and its success rate, credit history and debt levels, loan to value and size of the loan, who will be using the mortgaged property, and whether a Personal Guarantee is being provided.
An online commercial mortgage calculator will allow you to compare commercial mortgage deals and help you to work out budgets and cash flow for your business.
Bridging finance
Bridging finance is a short-term finance facility that can be used to purchase commercial property before cash becomes available or alternative long-term funding can be arranged.
Bridging is especially useful if you're purchasing a property at auction as it can be arranged much faster than a mortgage – typically up to two weeks, but it can be as little as 48 hours depending on the circumstances.
You can also use bridging to purchase a property and convert it to commercial, or if you're a relatively new business and you need to build up your trading accounts before applying for a mortgage.
The bridge will usually be secured against the property that you're purchasing, although you can use your home or other investment properties instead of/in addition to the commercial property.
What is the lending criteria for a bridging loan?
Unlike mortgages and secured loans, you do not need to make any monthly repayments with a bridging loan so income is not assessed. Instead, you will need to provide a failsafe exit strategy; for example, the sale of another property or refinancing.
The loan to value will be the main factor when determining the interest rates offered, but the type of property and its condition will also be considered.
Secured loan
Secured loans can be used for any legal and reasonable purpose – this includes purchasing another property.
The money raised from a secured loan can be used to either purchase a commercial property outright or to put down a deposit for a commercial mortgage. A secured loan is usually taken out and secured against your home.
The amount you can borrow will largely depend on the value of your property and any outstanding mortgage balance. When it comes to the lending criteria, your age, credit history, income, and existing credit commitments will also be considered.
Like a mortgage, you will pay off a secured loan in monthly instalments over a term of three to 25 years.
Don't forget the Stamp Duty
You will have to pay Stamp Duty when you purchase a commercial property but the bandings and rates are different to residential and buy-to-let properties. The bandings are also different for England and Northern Ireland, Scotland, and Wales.
The bandings for England and Northern Ireland are:
Up to £150,000: Stamp Duty Land Tax (SDLT) is 0%
The proportion between £150,000 and £250,000: SDLT is 2%
The proportion over £250,000: SDLT is 5%
It's essential that you allow for the Stamp Duty when calculating your budget for purchasing a property. A Stamp Duty calculator will work out how much the Stamp Duty will cost you depending on the purchase price and location of the property.
Copyright 2021. Featured post made possible by Holly Andrews, Managing Director at KIS Finance.