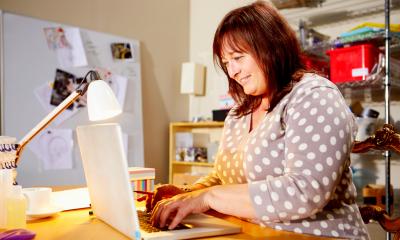 Thinking of setting up a home-based business? Intended to help you succeed, here are ten tips from one of the founders of Enterprise Nation Emma Jones
1. Do something you love.
Base the business on something you enjoy - when your hobby/passion/skill becomes your full-time job, it never really feels like work.
2. Have a plan.
Prepare a basic business plan to set out your vision, describe your market and explain how you propose to reach out and sell to that market. Include sound financials and review the plan every six months or so.
3. Find dedicated space.
Create space in your house that is your workspace. When in that space, family and friends should know you're in business mode, plus, you can walk away at the end of the working day. Invest in a good desk and chair, because you'll be spending quite a bit of time at and in them.
4. Take yourself seriously.
Create a professional front door - when customers come calling, be sure they're met with a professional welcome. This applies from the way you answer calls, to your website, company stationery and even the places in which you choose to meet clients.
5. Make the most of social media.
The home-business community has warmly embraced tools such as Facebook, Twitter and LinkedIn. They are free to use and act as a business development channel and a virtual water cooler for the moments when you miss the banter of an out-of-home office.
6. Become an expert.
Set yourself up as an expert in your field by blogging/tweeting about the subject, writing a report, publishing a book or hosting an event. Being an expert gives credibility, and with that comes customers.
7. Never stop learning.
Part of becoming an expert is continually picking up intelligence from those around you. Keep an eye on what others in your industry are doing, read about successful entrepreneurs and tune in to trendspotters so you can prepare for new market opportunities.
8. Get out of the house.
Attend networking events, work from the local café, sign up to a personal development course. It's good to get out of the home office, but be sure you can still be contacted and respond via your mobile/laptop/webmail, etc. This is your "road warrior kit".
9. Use others.
Do what you do best and outsource the rest - to grow the business, focus on the core product of the company and subcontract non-core tasks (eg admin, accounting, PR, fulfilment, etc) to others.
10. Focus your efforts.
Follow the golden triangle - to keep the business in balance, spend roughly a third of your time on each of three key things: customer care, business development and admin. That way, you'll have a smooth-running business with happy customers and new income streams on the way.
Written with expert input from Emma Jones of Enterprise Nation.